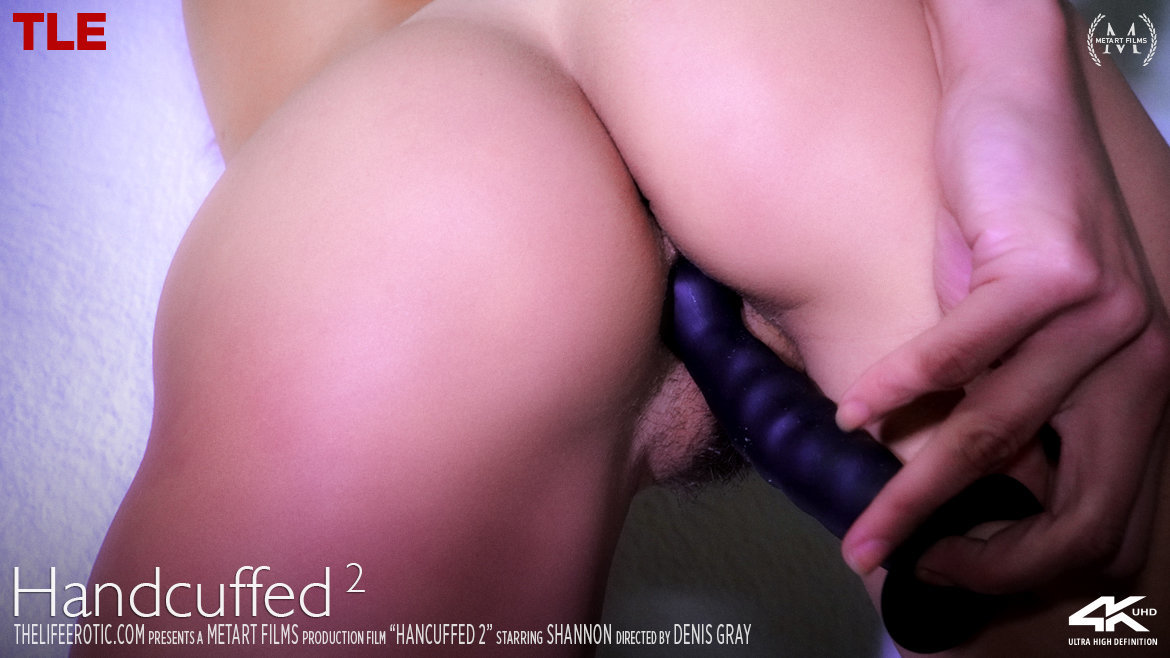 Stunning submissive Shannon is handcuffed to a wooden coat stand, wearing only a tight black thong, leather collar and ankle-boots. Her long, golden-brown hair is loose, streaming down her back. As she shakes her toned ass, an anonymous Dominant whips her cheeks and thighs until they glow pink, then removes her panties. She poses, flaunting her punished, tanlined buns, with her trimmed pussy peeking out as she bends over and arches her back.
Shannon repositions the chain connecting her steel cuffs, but makes no attempt to struggle free – she's kinky for bondage play. She shows off her perfect breasts as she licks the central pole and sucks on the knobs jutting out from it. Squatting down, she finds a ridged black dildo slotted into the umbrella holder, and takes it in her mouth and deep down her throat.
She removes the toy from the stand and keeps on sucking, lubing it with her saliva. Then, as her hazel eyes sparkle with lust, she grinds it against her crotch and inserts it in her snatch. She plows it in and out, then straightens up to bang herself standing doggie-style. The chain between her cuffs is just long enough to let her take the dildo from behind while rubbing her clit.
She oralizes the shaft again, savoring her juices off of it, while her fingers work in her slit. Then she crams it back inside and raises one leg up on the stand to splay herself wider open. Using both hands, she pounds herself hard, chains rattling and her pussy slurping wet. Shot from below, she screws herself relentlessly, tanlined tits jiggling.
Moaning, with her pretty face twisted in pleasure, Shannon slows things down, relishing each thrust of the dildo as she churns herself to a powerful orgasm. Satisfied and spent, she slides down the post to slump on the floor, legs splayed on either side of the stand.
Streaming Video From DoodStream
Streaming Video From VOE
Download Video From FileFactory