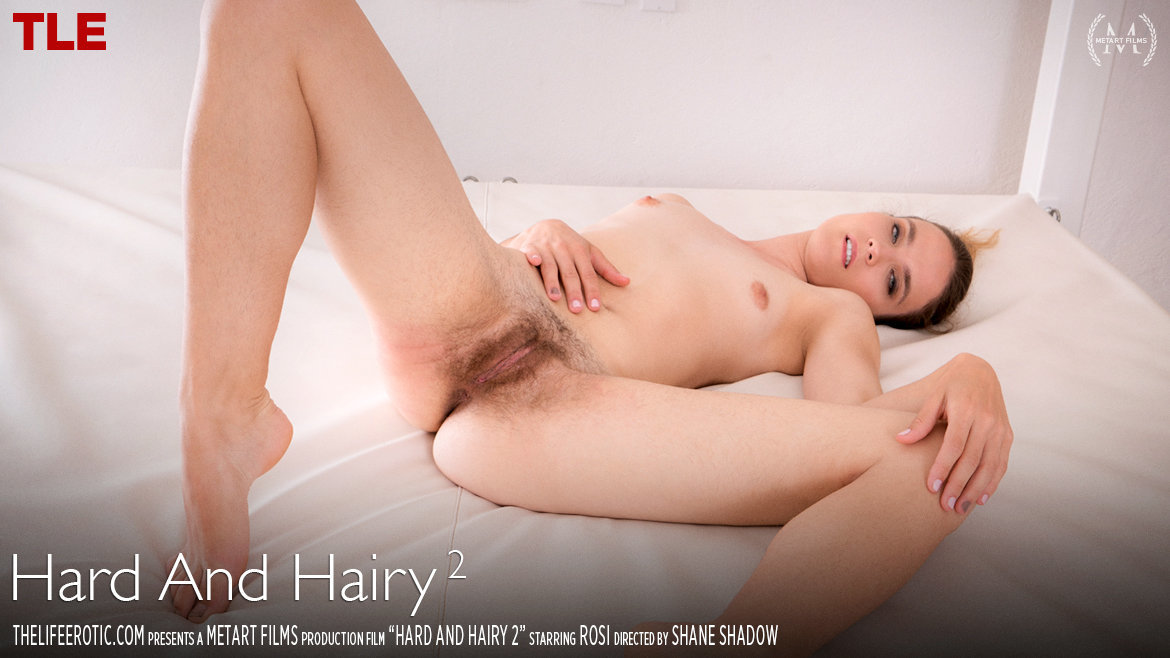 Sexy Rosi, a slim, blonde babe with striking blue eyes, is getting her kink on in a dungeon room. She is showing off her toned body in a black fetish teddy – with her full bush escaping on either side of the crotch. Kneeling doggie-style on a white-leather bed, she kneads and splays her ass cheeks to flaunt the fuzz growing down her inner thighs and out from her ass-crack.
As she hand-spanks her butt, the slap echoes around the room. Then she cries out as an unseen Dominant whips her buns with a black-leather flogger. Her bare toes curl and spasm as each stroke connects, and soon her ass is glowing pink.
After the pain of punishment comes pleasure – or so Rosi thinks as she strips slowly, then crouches on all fours again. However, as she reaches back to masturbate her unshaved pussy, her Dominant flogs her butt some more. Of course, this only spurs her on to frig her pink even harder and faster
She rolls over on her back, small, natural breasts bared and legs spread wide as she probes her hairy snatch with two manicured fingers. Soon, she is lost in bliss, laughing as random strokes of the whip land on her ass and thighs. Each stinging blow intensifies her ecstasy, bringing her closer to orgasm.
As she rolls on her side, the camera captures a close-up of her crotch with its dense growth of soft, dark pubes. Her fingers plow in deep as her palm rocks against her clit, then she lies back with one foot flexed and braced against the bed. Groaning, she humps her hand and cums hard, then treats us to one final close-up of her splayed, hairy pussy, caressing it with shiny-wet fingers before the picture blurs then fades to black.
Streaming and Download Video From DoodStream