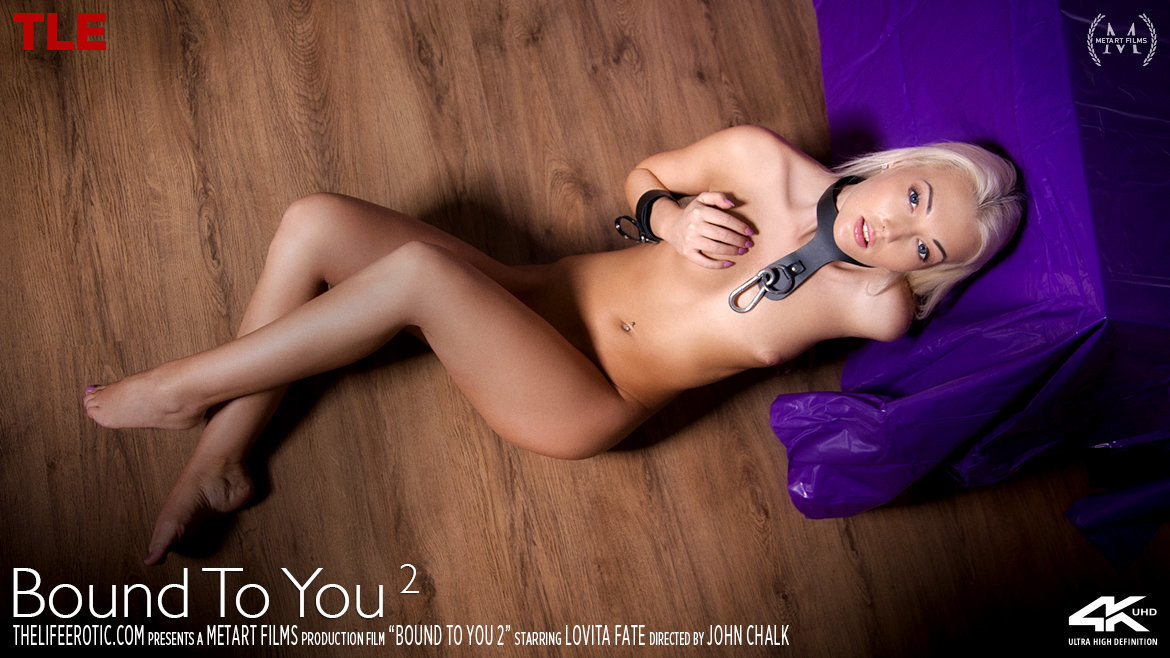 This sizzling slice of kink opens on a close-up of a leather flogger, shot in moody monochrome. Lying on a PVC-draped table in the background is gorgeous Czech blonde Lovita Fate – bound and totally submissive. Her wrists are cuffed and attached to a collar, forcing her to raise her hands, while silicone-loop ankle restraints and a blindfold add to her helplessness…
Lovita's anonymous Master whips her, as she squirms and winces and tells him she wants it. Then she is left alone to struggle against her bonds. Now shot in vibrant color, she flaunts her tan body in a belt – worn as a bandeau "top" that only just covers her nipples – and a minuscule black thong. With deft moves and lip-biting determination she frees one hand, then caresses her stunning body and exposes her perfect breasts.
She works the unbuckled leather belt against her crotch, then uses it to spank and tease her golden-brown buns. Moaning, she flosses it between her thighs and punishes her cheeks again. Slowly and seductively, she pulls down her thong to reveal her tight pink asshole and shaved pussy. She reaches back with manicured fingers, bare toes wiggling and pointing as she probes inside of her snatch.
Next, she liberates her ankles and lies back, thighs splayed wide and labia spread to show off her cute clit-hood piercing. Yanking on her collar with one hand, she plows her pussy relentlessly with the other. As she gets closer to orgasm she whimpers, then crouches on the floor, ass raised clear as she bucks and humps against her wet, sticky fingers.
Within just moments she hits the critical point, with every inch of her body taut and tense until she cums explosively. Seemingly spent and satisfied she relaxes – until her Master reappears. Now it's back to black and white as Lovita lets him know she's definitely not done yet…
Streaming and Download Video From DoodStream