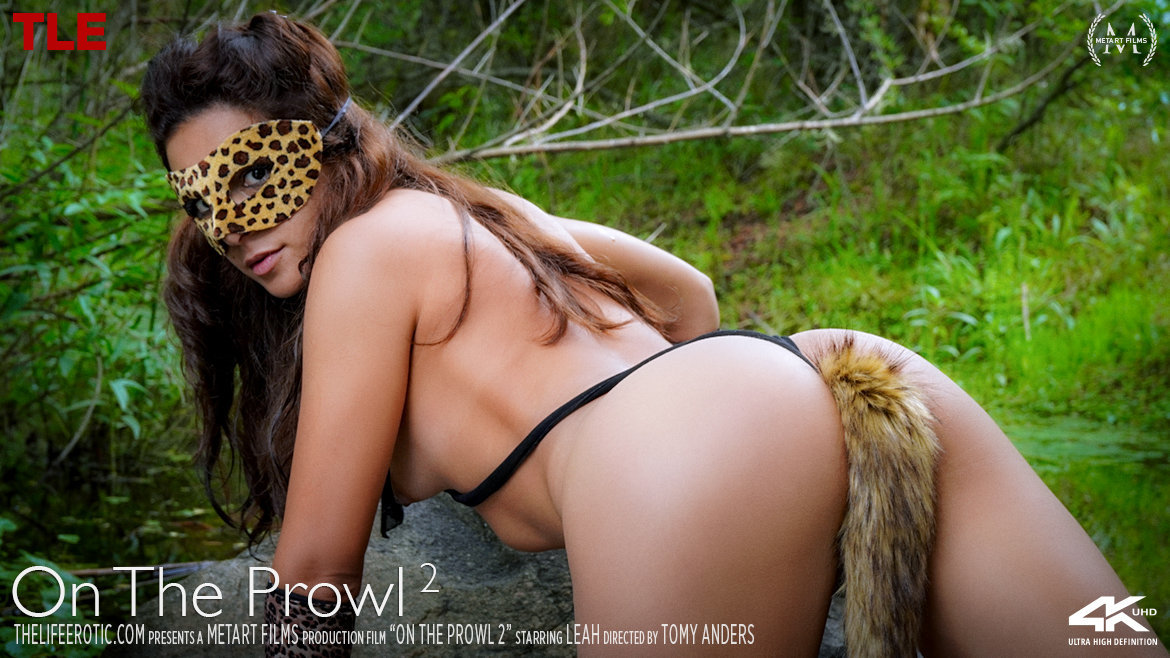 Sexy Hispanic brunette Leah is unleashing her horny inner animal outdoors in a forest. She's almost naked except for a leopard-print mask and armlets, a fuzzy fox-tail attached to a butt-plug, and skinny black body-straps that emphasize her nudity. She crawls to a stream on all fours and bows her head to lap up water before crossing to the other bank.
Alert to the danger of discovery, Leah runs across the grass to a large, flat rock. But, as she reaches back to caress her tail – stirring the plug inside of her asshole – lust soon overrides any concerns that someone may be watching her. Flaunting her small, natural breasts, deep-brown nipples, and shaved pussy, she claws at her ass-cheeks with long-nailed fingers.
Thighs splayed, she begins to masturbate, tugging on her tail as her fingertips tease her slit and clit. Solo sex always feels way more intense when she uses an anal toy. Then, lost in pleasure, she arches her tanlined body back over the rock, moaning as her tits heave and quiver. Her bare feet move against the hard, rough surface, toes pointing as her orgasm approaches.
As Leah begins to buck and squirm, she unmasks – her true self is revealed, as beautiful and wild in nature as any jungle creature. However, she fights the urge to cum, fingers penetrating her pussy as she continues to yank on her tail. The camera captures her from all angles – nature documentary-style.
She hits the brink and sits up, twitching as her orgasm sends jolts of pleasure through her. She reclines, one long leg stretched out, then returns to animal mode. There's no time for her to enjoy the afterglow – already back on high alert, she crawls through the forest once more, on the hunt for another erotic adventure…
Streaming and Download Video From DoodStream