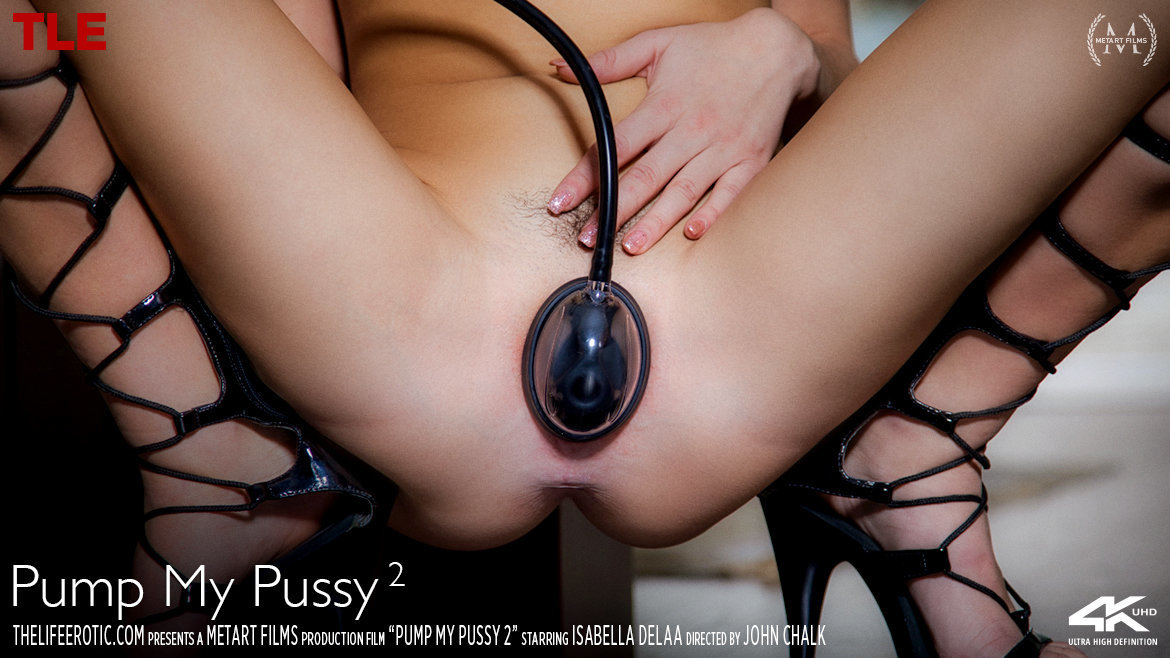 Hot Czech brunette Isabella Delaa is down for kinky fun in a black latex minidress and lace-up stripper-heel sandals. Standing in an opulent bathroom, she hikes up her hem to stroke her long, toned legs. She takes a black pussy pump from the towel rail and tests out the cup and suction bulb. Then, spinning to show off her ass, she peels off her thong before flaunting her shaved pussy and trimmed mound.
She begins to masturbate, teasing her large, moist labia – splayed and stretched, they look like shiny pink butterfly wings. She gasps and moans as she skims a spit-wet, manicured fingertip along her slit, then plunges it inside of her snatch. Shot upskirt, she hikes up her dress to flash her perfect tits, then strips it off.
Naked, Isabella can focus on pleasuring her pussy. She squats down low to open herself up for a deeper screw, balancing on her skyscraper heels. Now her juices are flowing, she takes the pump, swings the cup against her crotch, then guides it into place. She squeezes the bulb, rocking and whimpering as the air is sucked out.
After a few moments, she takes a peek – her pussy is already so puffed-up. She gives it a little more suction and sits on the hard wood floor, legs spread as she frees her swollen flesh and begins to rub it. As her fingers caress her tender pink folds, she holds the cup over her nose and mouth to inhale her own horny scent.
Captured in sharp close-up, Isabella moans as she pounds her sensitive, slurping-wet snatch. Tits quivering, she squirms her hips, knees clamping together to pin her hand in place as she cums long and hard. Even after she stops touching herself she keeps cumming, twitching and bucking in ecstasy. Satisfied, she teeters into her bedroom on her spike heels.
Streaming and Download Video From DoodStream