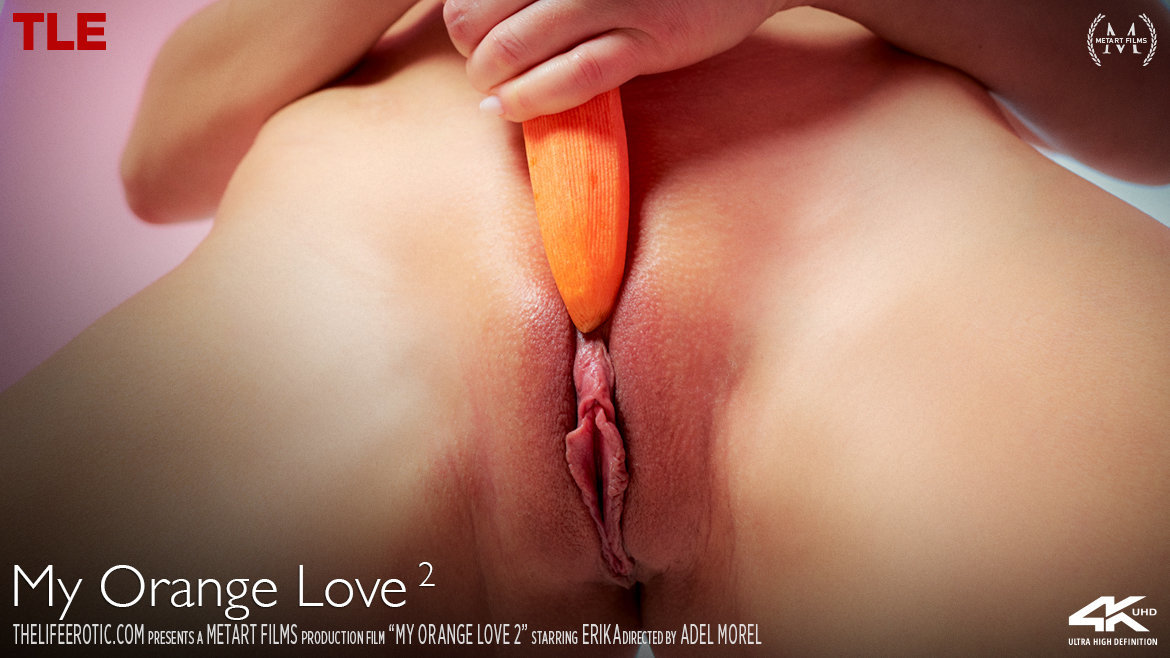 Sexy Ukrainian blonde Erika E is lounging on a fuzzy fake-fur rug, wearing strappy green lingerie. She strokes her slim curves with manicured fingers, green eyes sparkling as she lowers her panties to caress her mound. Her hands glide over her flat belly and beautiful ass, freeing her pert, small breasts from her bra. She could spend hours building up to a slow, intense orgasm – but she wants to cum quicker…
Erika takes a large carrot – fresh, raw, and peeled – then licks and sucks on it, enjoying its sweet flavor and the cool, moist feel of it against her skin. She strokes it over her tits, then yanks her thong aside so she can work it against her puffy shaved pussy. Soon, it is coated with her sticky juices and, as she tastes them off of it, she begins to masturbate.
At first, she uses her polished fingertips, circling them over her clit. Knees bent and bare feet flexing with pleasure, she oralizes the huge, orange vegetable. Soon, her snatch is even more wet and swollen in anticipation. Unable to delay any longer, she assumes the doggie position, head bowed and ass up, then grinds the tip of the carrot against her pink. Inch by inch she dips it inside, rocking her ass to take it a little deeper each time.
Soon, she pistons the large tapered shaft in and out of her pussy. Her other hand takes care of her clit as she moans with pleasure and licks her lips with a pierced tongue. Next, she strips off her panties then sits back on her haunches, pounding herself with the carrot. Soon her crotch and the veggie dildo are slathered in churned-up cream.
On the brink of orgasm, Erika reams her clit, then cries out in delight as she cums. Her body spasms and trembles so hard she drops the carrot, then strums and spanks her super-sensitive nub to stretch out her climax for as long as possible. She drifts down to earth sucking on her finger, then slips away from the scene. The carrot is left on the rug, ready for her return…
Streaming and Download Video From DoodStream