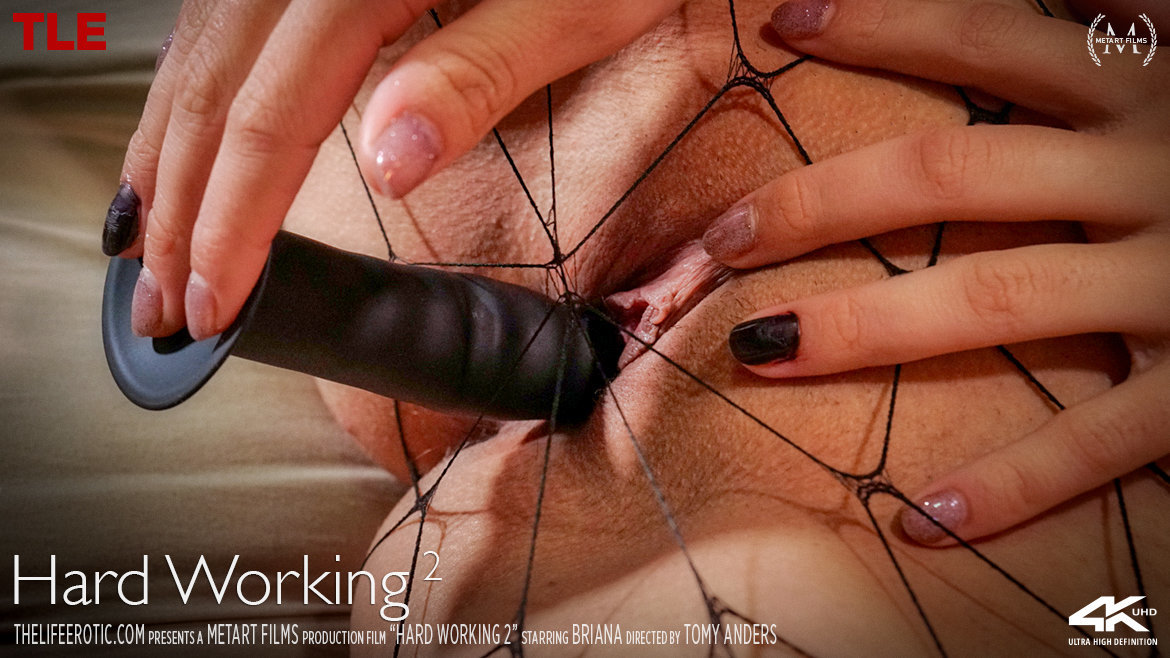 Sexy tattooed and pierced Hispanic brunette Briana dresses for solo sex in big-cross fishnet pantyhose, then caresses her inked ass and thighs through the wide mesh. She ties on a lace domino eye-mask and admires herself in the mirror, pouting her glossy lips as she plays with her small, perfect breasts and stiff nipples. Topless, she lies back on the sheets, splays her thighs, and teases her shaved pussy.
Her spit-wet polished fingertips fit easily through the holes in her fishnets, as she spreads her lips to grind them against her clit. Soon, she squirms on the bed and pounds her fingers in and out her mouth, then circles them over her pink again. Toes pointing in their fishnet cage, she bucks her ass rhythmically as she slides one digit, then two, inside of her juiced-up snatch.
Lost in ecstasy, she treats her tits to a little rough play, squeezing them and tugging on her nipples. This fires her up to frig her pussy faster, until her hand is a blur. Next, she retrieves a black dildo from her nightstand. She drops playful kisses on the rounded head, then plows her mouth before grinding it hard against her rack. This foreplay is short-lived as she plunges the shaft inside of her pussy and pounds herself with every inch.
For an added tease, Briana rolls a tickler condom onto the toy, covering the length with soft, latex spikes. These work their magic as she bangs herself hard, and her fingertips stroke her anal pucker. Her tits get more rough attention, raising a pink glow.
Briana removes the condom with her mouth and plays it against her tongue. Close to cumming, she pistons the toy in and out, unmasked and head thrown back as she frigs her snatch and clit to an intense orgasm. We leave her lying on the bed, satisfied and spent, almost unable to move…
Streaming and Download Video From DoodStream