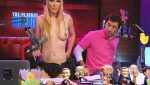 See what happens behind the scenes at Playboy Radio! The Playboy Morning Show features hot naked girls, games, celebrity guests and more.
Season 1, Episode 45
Famous documentary filmmaker, Morgan Spurlock, is in studio hanging out with Kevin and Andrea and they discuss his upcoming documentary, Comic-Con Episode IV: A Fan?s Hope.
Video Streaming & Download Options: