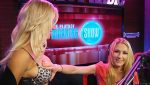 See what happens behind the scenes at Playboy Radio! The Playboy Morning Show features hot naked girls, games, celebrity guests and more.
Season 1, Episode 42
Comedian Josh Wolf is in studio with Kevin and Andrea and talk to the writers/directors of the new movie American Reunion, Jon Hurwitz & Hayden Schlossberg, and play a round of "Smell My Finger" with a group of lovely ladies.

Video Streaming & Download Options: