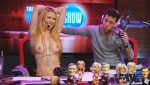 See what happens behind the scenes at Playboy Radio! The Playboy Morning Show features hot naked girls, games, celebrity guests and more.
Season 1, Episode 39
Kevin and Andrea chat with DJ and Playboy Model, Natalie Loren, and investigate whether a woman can have an orgasm while working out with Real House of Orange County, Fernanda Rocha.
Video Streaming & Download Options: