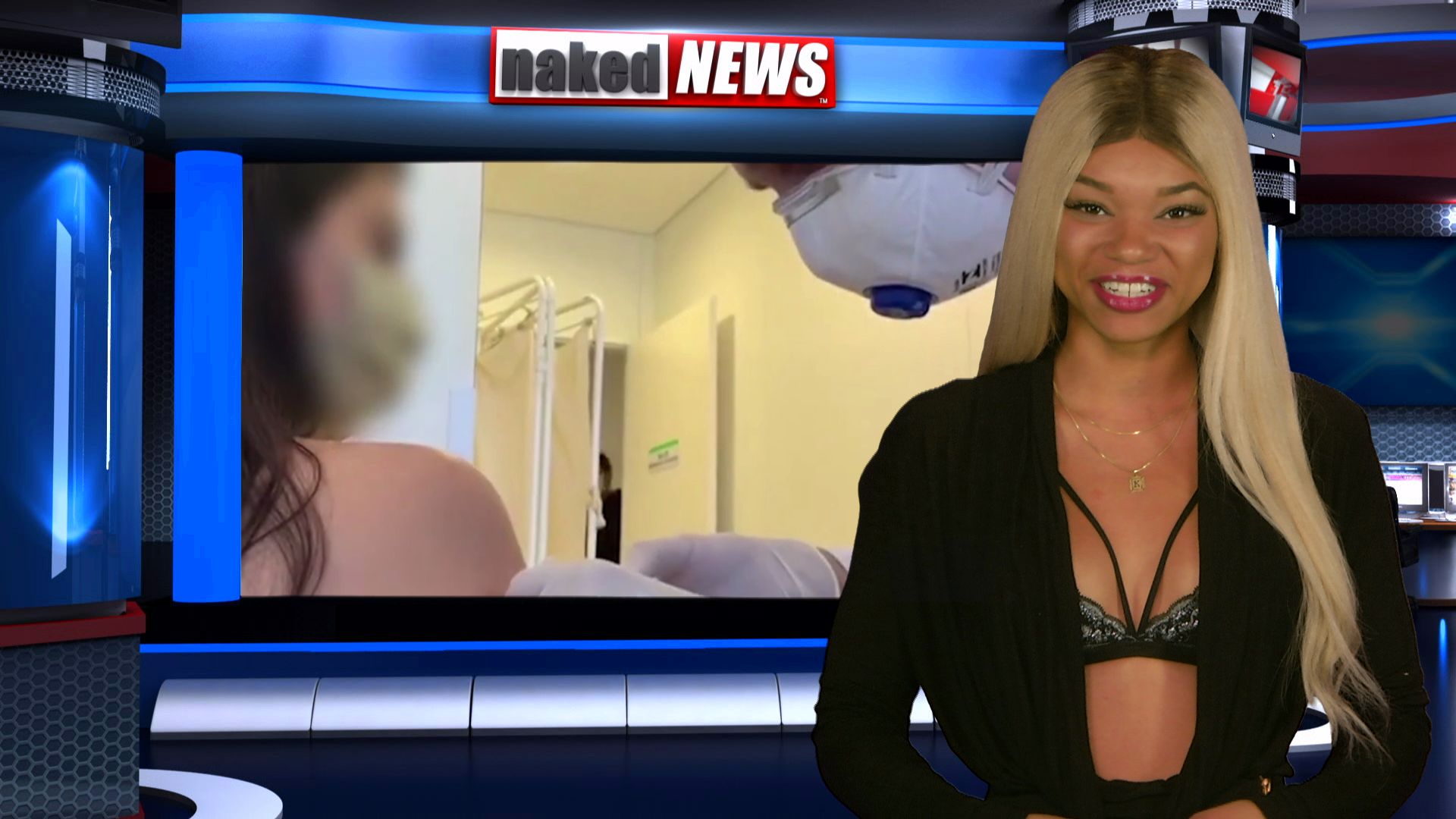 Hello, everyone, and welcome to Naked News! I'm Eila Adams, and next to me today is someone you might recognize from her audition a while ago – it's Lila!
Hi, everyone! It's really great to be here!
It's been so long since there's been a new face in the studio – you're a welcome addition. So the last time we saw you was pre-pandemic, how have you been handling all the self isolation? Well, there'll be plenty of time throughout the show to get to know you better, but we'll start with a question on a potential coronavirus vaccine. When one is finally released, would you be first in line, or would you wait a but to see how it plays out? Well, scientists are working hard to develop a vaccine and they just started a MAJOR trial that will hopefully lead to one very soon. Tia's got the details right now in the Naked Newsroom!
MAJOR is right Eila. It's the world's biggest coronavirus vaccine study, with around thirty THOUSAND volunteers taking part. The potential vaccine was developed by Moderna and the National Institutes of Health. Each volunteer will be dosed with either the vaccine or a placebo, and will then be monitored for infections and side-effects. Several other potential vaccines are also slated for similar trials, and with luck, at least one will be effective and safe. Fingers crossed that some of these work and put us on the road back to normal!
Right now, however, things DEFINITELY aren't normal! The NFL has announced there'll be NO 2020 preseason after all, and teams will jump straight into games that matter. This could make things interesting, especially on teams that are rookie-heavy. At least there's plenty of practice time, as the regular season is still set to kick off on September tenth. To make sure THAT happens, the league has implemented a coronavirus screening program, and various procedures intended to minimize risks of transmission. But honestly? If sitting near people in a restaurant is risky, then I'm pretty sure a locker room is.
And sorry, Honus Wagner! There's a NEW hottest baseball card in town! Topps' NOW limited-edition trading card of DR. ANTHONY FAUCI has set the franchise's all-time print record run! In twenty-four hours, fifty-one thousand, five hundred and twelve cards were sold, more than DOUBLE the previous record. That's pretty impressive for a card showing a seventy-nine year old in a mask making a REALLY awkward throw from the mound! Imagine how many cards I'd sell! Don't go away!