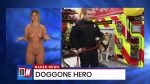 Welcome everyone, I'm Isabella..
And I'm Marianne, let's dive right into it today Isabella, would you say you're more of a pessimist or an optimist? Well, according to a new global poll, it turns out the glass is more often half EMPTY, than half full.
Here's Eila with the story.
I don't know if revolution's coming, but a new study suggests the global masses are seriously restless! According to the Edelman Trust Barometer, a full FIFTY-SIX percent of people believe "Capitalism as it exists today does more harm than good in the world." On top of that, a majority of respondents in every developed market said they WON'T be better off in five years' time, and globally, OVER EIGHTY PERCENT of employees fear losing their jobs!
The head of Google and its parent company Alphabet is worried about AI. In an editorial for The Financial Times, Alphabet CEO Sundar Pichai wrote "There is no question in my mind that artificial intelligence needs to be regulated. It is too important not to." While Pichai was clear that AI technology does have an upside, he recognized the considerable danger of uses like facial recognition and deepfakes. And if HE's worried, imagine how the professionally naked feel!
And cybersecurity experts have uncovered a cam network breach that exposed the personal info of thousands of models! The information left vulnerable by the PussyCash network included names, social security numbers, and driver's licenses. The exposed data represents both a physical security risk and identify theft risk for the performers. Stay tuned for more Naked News.
We both like how we look naked, but which do you think would be better: being captured in a really great photo… or a really great painting?
Well, ANY way someone wants to capture the human body in all its glory is fine by us!
And that's exactly what ONE UK artist, is doing with her "Send Nudes" exhibit. Here's Frankie with the story.
Video Streaming & Download Options: