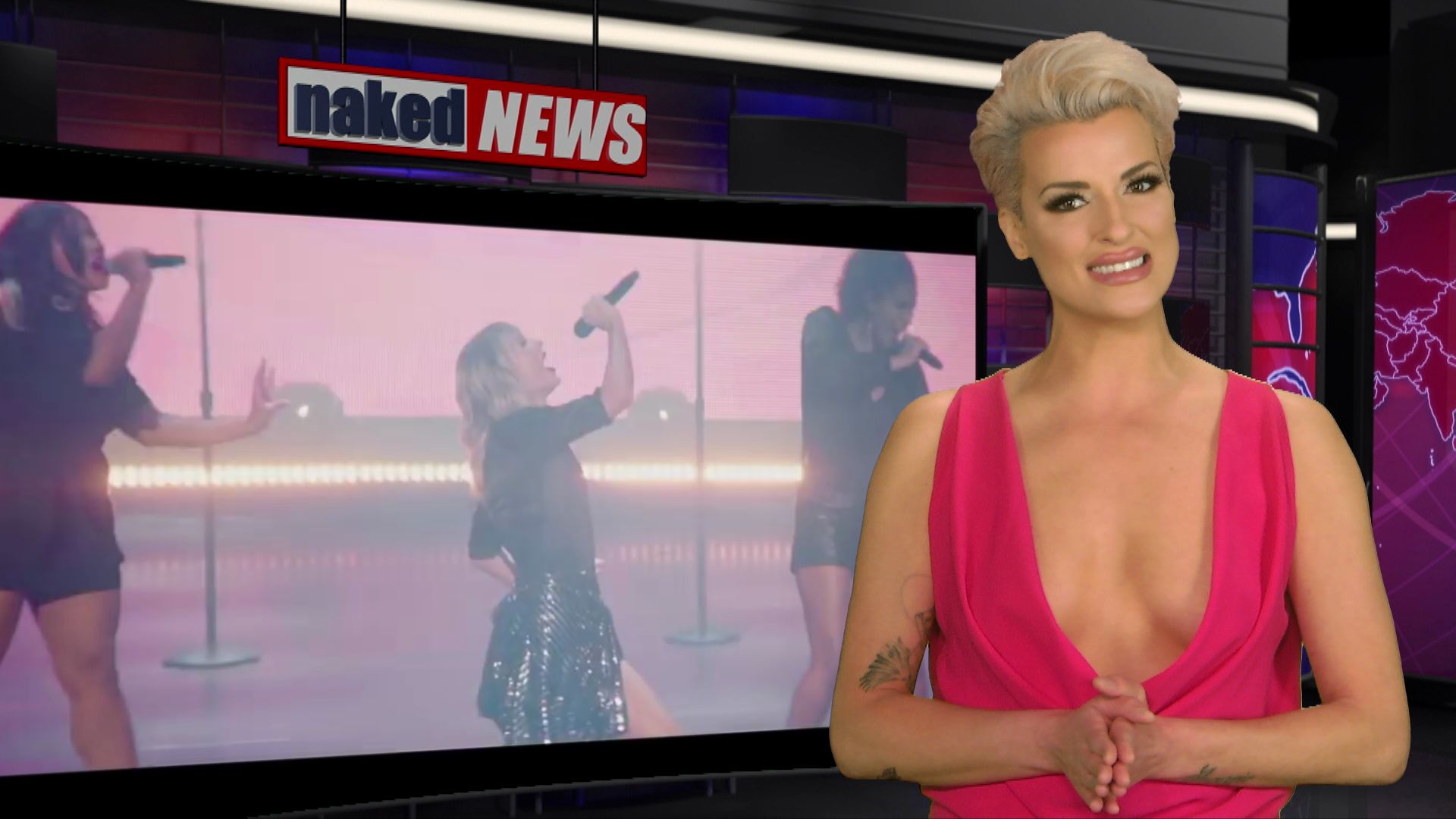 Naked News, Thursday May 14, 2020
15 May 2020
Welcome to Naked News, I'm Eila Adams. What's old is new again folks, Britney Spears is currently Trending online and to find out WHY everyone is so interested in her these days, let's bring in someone with her ear to the ground, the busiest busybody in the biz, the one and only, Laura Desiree. Hi Laura.
Hi Eila, nice intro.
So BRITNEY SPEARS, what's going on here?
What can I say? Brit-Brit is trending and she didn't have to shave her head or even burn down her home gym to do it!
Well, THAT makes me happy. Because despite her little disasters, her music is super-fun, and she's still super-HOT!
You are absolutely right on both those counts, and thankfully, THAT's why she's been trending! I'll take it from here Eila. Welcome inside entertainment, everyone! Britney's fans started up a social media campaign to get her 2016 album, "Glory" to the top of iTunes' US Pop Chart, and it succeeded! Although impressive, that's not really even the BEST part! Brittany then shared an ALTERNATE album cover, featuring her in a tiny gold one-piece, posing in the desert. The pic is super hot and THAT'S why we've got Britney on our minds.
Taylor Swift cancelled her "Lover Fest" tour because of coronavirus but the crafty singer has a work around planned. She's going to bring it to TV. She filmed her last show in Paris last year and that's the one everyone can see. Swift performs songs from her newest album, Lover, AND some of her other big hits. Watch for the City Of Lover concert on Sunday, May 17th at 10 p.m.
U2 singer Bono just celebrated his sixtieth birthday, by sharing a list of sixty songs he describes as having saved his life. And it's QUITE the eclectic list! It includes everything from Peter Frampton's "Show Me The Way", to David Bowie's "Heroes", Johnny Cash's "Hurt", Public Enemy's "Fight The Power" and Kanye West's "Black Skinhead". The full playlist is available on Spotify, and letters he's written ABOUT the songs are being posted on U2.com.
Influential filmmaker Spike Lee has created a video love letter to New York City in the midst of the current pandemic. Titled "New York New York", it's set to Sinatra's iconic song of the same name, and poignantly shows the usually-bustling city's streets as they currently are – largely deserted. It also prominently features the hard-working first responders and healthcare workers of the city. Check out the full video on Lee's's Instagram page.
And finally, I didn't know just how BADLY I needed to see legendary actor Sir Anthony Hopkins doing the Toosie Slide on TikTok, until I saw it. The 82 year old Oscar winner joined the video-sharing site with a bang, thanks to some decent footwork over Drake's catchy tune. He also challenged Arnold Schwarzenegger and Sylvester Stallone to do THEIR own Toosie Slides, and this is totally giving me life during social distancing. Sly, Arnie, if you're watching, give us that slide! And that, my friends and fans, is a wrap on Entertainment. For Naked News, I'm Laura Desiree
Video Streaming & Download Options