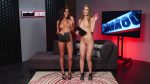 Welcome to Naked News, one and all! I'm Alana Blaire!
And I'm Frankie Kennedy. Alana, do you ever have to deal with trolls on Twitter? Well, the anonymity of Twitter means a lot of people feel they can get away with being total jerks. And now, another A-lister has decided to leave it behind.
Isabella's got that story, and MORE, right now in Entertainment.
Lizzo was the queen of 2019 in general, and her Twitter was a pretty great part of that. But the Juicy singer announced this week that she's quitting Twitter. Basically, trolls have ruined the party and she says she'll be back, sometime. Later, in an Instagram Live, she clarified that she couldn't take how insensitive, hateful, and hurtful people were to one another, and it didn't feel good. Can't we all just get along?
More and more celebrities are rallying to help raise money for Australian wildfire relief. Aussie actor Chris Hemsworth just donated a million dollars, and asked others to chip in, as well. Elton John also added a million to the pot, telling the audience at his Sydney concert he was in awe of the work firefighters were doing. Other stars who've pitched in include Pink, Kylie Minogue, Nicole Kidman and Keith Urban. Let's hope the money helps authorities get the fires under control.
Nicki Minaj's fans think no one can hold a candle to her… which is why so many of them are flipping out online about a wax tribute to her. Madame Tussaud's in Berlin recently began displaying a wax Nicki, and the internet went a little nuts. The claims are that 1) it looks nothing like her, which is true and 2) They made her look white! Also true. The craziest part is its actually THE SAME waxwork that was unveiled at Madame Tussauds in Las Vegas in TWENTY-FIFTEEN, which Nicki RAVED about by the way.
Our New Year's Eve hangovers are long gone, but Rod Stewart's still paying for his celebration! He and his son have been charged with simple battery after assaulting a security guard at the Breakers Hotel in Palm Beach. According to reports, Stewart and family were trying to get into a private event, and things got heated. Sean Stewart allegedly shoved the security guard, and the 74-year-old Rod punched him in the ribs! Well… I guess it's nice they're doing things, as a family?
Dr. Phil and his son don't beat people up together… but if they do, they should start with the son's interior decorator! Jordan McGraw recently listed his Beverly Hills home for five-and-three-quarter million dollars, but people aren't blown away with the opulence of the five-bedroom mansion. They're talking about the bizarre look of the place, with the dining room's GUN display earning much mockery. If I were Jordan, I'd be calling my dad's friend Oprah for decorating tips! And that's a wrap on Entertainment, I'm Isabella Rossini.
Video Streaming & Download Options: