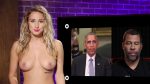 Welcome to Naked News, I'm Frankie Kennedy!
And I'm Alana Blaire! Now this'll sound a bit out of left field Frankie, but it'll make sense, I promise. It seems like people either LOVE Seth MacFarlane's humor or HATE it. You know, Family Guy, American Dad, Ted, all that stuff. Where do YOU stand?
Well, no matter what side of the fence you're on, there's no denying he's one of the most creative guys in Hollywood.
A lot of people love what he does, and it's made him very, very rich. And as Isabella is about to explain, he's about to get even richer!
In entertainment, Seth MacFarlane, the man behind Family Guy, The Orville, American Dad and The Cleveland Show, is leaving longtime studio 20th Century Fox Television. And he's leaving for a damn good reason! A monster new 5 years deal with NBCUniversal Content Studios, worth upwards of 2 hundred MILLION dollars. And as much as that is, the guy's worth every penny! Family Guy ALONE has made billions, and it's just the tip of his creative iceberg!
The co-founder of adult film production company Vixen Media Group has QUIT! Greg Lansky sold off his entire stake in the porn biz, and is working to "build and invest in a new startup company within the CANNABIS space". It sounds like the departure was amicable, as Vixen's board had nothing but nice things to say about Lansky, and vice versa. And all you Vixen fans can breathe easy – both sides were enthusiastic about the future of its sites, including faves Blacked, Deeper, and Tushy. Whew!
Pamela Anderson is once again, MARRIED! I know, came as a bit of a shocker to us too but apparently got hitched to movie producer Jon Peters in Malibu. In some ways, it's a very romantic tale, considering they first dated OVER THIRTY YEARS AGO! But for those who'd still like a shot at Pam, two important factors to consider: this is the FIFTH marriage for both of them, AND he's twenty-two years older than her. So yeah, I'm guessing at some point, she'll be single again!
Margaret Mackie is proof that it's never too late for stardom, no matter what life throws at you. The 83-year-old who resides in an assisted-living facility is now high on the charts with her cover of My Way! A video of Mackie, who suffers from dementia, singing the tune with home worker Jamie Lee Morley recently went viral… and that inspired him to record it professionally and release it as a single! The profits are going to charity, but more, much more than this, she did it HER WAY!
Last up, if you ever find yourself in Socorro County, New Mexico, try not to break any laws! That's because the Incredible Hulk himself, Lou "fricken" Ferrigno, is now a sheriff's deputy there! The former Mr. Universe and iconic TV Hulk was recently sworn in, and is going to help boost recruitment. This isn't his first stint in uniform, either. Ferrigno was also a deputy in California in 2012. I'm Isabella Rossini, and now, it's time for me to go…
Video Streaming & Download Options: