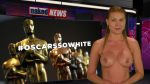 We've got to start with the Oscar snub we here at Naked News took most personally: Jennifer Lopez didn't get a Supporting Actress nomination for Hustlers. She was excellent in the film, which was a huge hit at the Toronto International Film Festival… so I have to wonder if the film's sexually charged content scared off the Academy! Ah well, at least the internet went nuts, and J-Lo still has the Super Bowl Halftime show the week before!
Here's another snub, one that also has us thinking #OscarsSoWhite: Lupita Nyong'o didn't get nominated for Us. I know the Academy doesn't love horror, but she gave TWO of the year's most incredible performances in the movie!
As for a snub that may come back to haunt us, Adam Sandler was overlooked for his performance in Uncut Gems. So we'll have to see if he follows through on the threat he made on Howard Stern to make a movie so bad on purpose just to make you all pay! I'm not too worried though, because he was gracious in defeat, even giving a shout-out to the nominated Kathy Bates, also known as Mama.
And our last big snub, maybe the biggest: Beyonce! Now, to be honest, I don't know if her song Spirit from The Lion King DESERVED a nomination. But now we likely won't see Beyonce performing at the Oscars, and that is the greatest tragedy of all!
Video Streaming & Download Options: