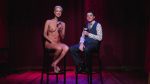 Hello and welcome, everyone, to Naked News Magazine! I'm Marianne!
And I'm Frankie! Have you ever been to New York City Marianne? Well, our own Laura Desiree is OUR NYC tour guide, and today she's taking us to the city's incredible variety theater, The Slipper Room.
It's an amazing spot that'll definitely hit YOUR must-see NYC list!
Here she is in Naked Goes POP!