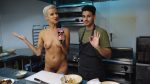 How are you in the kitchen Tia, what things do you like to cook?
Well, if you like going out, like we do, and you're in New York City, then Laura has a place you might want to try.
It's a place she recently paid a visit to, and even had the honor of going into the kitchen to help prepare a dish.
This is Laura, Cooking In The Raw.
Video Streaming & Download Options: