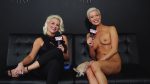 Now we'd like to know what all of YOU thought of Jasmin's audition. send in your comments to [email protected]!
Alrighty, lets get our minds out of the studio here for a moment, Isabella, what European city would you most like to visit?
Well, if it's an Eastern European fantasy you're dreaming of, we have it coming to you right now with the beautiful Laura Desiree.
She's in Budapest, Hungary, on the River Of passion Tour courtesy of our friends at Luxury Lifestyle Vacations!
Video Streaming & Download Options: