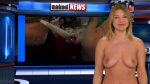 Hello, everyone, this is Naked News, and I'm your host for today's festivities, Shannon Blake. I'm sure I don't need to tell you that the world is looking very different than it was a year ago, or even a month ago. But sometimes it's hard to wrap your head around just what a big deal this pandemic is. That's why Eila's starting us off with some visual evidence, right now in the Naked Newsroom.
They say a picture is worth a thousand words, and many of the pics and videos taken in major cities AROUND THE WORLD these days are speaking volumes! Streets that would normally be bustling with both residents and tourists are now almost completely abandoned. Though they're more than a little scary, you can now see images of the Eiffel Tower with no one in it or around it, an empty Times Square, L.A. freeways devoid of traffic, and a person-free Las Vegas strip. In every sense of the word, haunting!
So we all know that travel has basically come to a standstill but the numbers are staggering! According to TSA stats, the drop-off in people flying is OVER NINETY PERCENT. As an example, this Friday saw under two hundred thousand passengers going through TSA checkpoints; the same day last year had TWO-AND-A-HALF MILLION! As a result, airlines have drastically cut their flights… and fingers crossed they're still operating when all this is over!
Of course, a handful of industries are thriving in these troubled times… including weed! As people prepared to hunker down, recreational weed sales went through the roof. They were up FIFTY PERCENT in key U.S. markets, including Colorado, Oregon, and California. Of course, it's hard to know yet if this is a real increase in demand or just stockpiling in case of supply problems… but either way, smoke 'em if you got 'em! I'll be back shortly with more headlines so don't move a muscle.