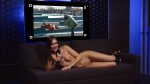 Welcome, one and all, to a brand new week here at Naked News! I'm your hostess with the mostess, Isabella Rossini! Now, I don't mean to toot my own horn, but I'm kinda famous for my booty. And I'm happy to share it with all of you! But not EVERYONE feels that way, and two photographers want to change that. With the story, here's Alana Blair.
The mille-et-un fesses project – or, in English, the Thousand and One Bums Project – is described by its creators as a "visual poem about body diversity". Emilie Mercier and Frederique Marseille realized that for many women, there was a lot of insecurity around butts. Too big, too small, too saggy, too flat – there was always something to worry about. So they decided to meet a thousand and one random women, and photograph their varying derrieres. Regardless of whether they were big, small, saggy, or flat.
They've been working on the project since 2015, and have been traveling the world to photograph fannies from France, Italy, Cuba, Switzerland, Mexico, and more.
What they didn't expect was how much CENSORSHIP they'd face! Though the tushes are photographed artistically and entirely non-sexually, they found themselves in Instagram's crosshairs repeatedly… and even lost their account for a year!
Despite all the challenges, the project is still well worth GETTING BEHIND, so check them out. And who knows, maybe a couple of us will contact them to get involved. After all, "Free the Nipple" gets lots of publicity, but freeing the BOOTY is every bit as important. And we support the right of EVERYONE to be free. For Naked News, I'm Alana Blaire.

Video Streaming & Download Options: