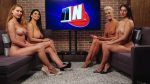 Hello and once again Happy New Year to you all, I'm Laura Desiree!
And I'm Romi Rain! It's great to have you with us!
Can you believe it's 2020?! Shockingly, Romi and I rang in the New Years TOGETHER in NYC and of course, had an epic time… As fabulous a party town as it is, there's no denying it was cold in New York! Maybe next year we'll try someplace hot?
Some place where we can be nude… Some place like Miami's FAMOUS Haulover Nude Beach!
That's exactly where Eila is next, soaking up the sun, au naturel, and having some fun with the sunbathers!
Here she is Naked, ON THE BEACH!

Video Streaming & Download Options: