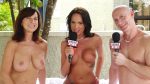 Hello, everyone, and welcome to Naked News, I'm Frankie!
And I'm Marianne, it's a PLEASURE to have you with us today!
I know you've done some acting over the years Marianne. What would you say is your dream role?
Well, from the audience perspective, I think a dream role is one where a Hollywood starlet shows off some skin.
Thankfully, we've got plenty of those, as Shannon's about to show you in this week's Hollywood Xposed.
Brought to you with the help of our friends at Mr. Skin.
Michelle Dockery can be seen in The Gentlemen, but the gentlemen will want to be seen in her after seeing Godless! In the Netflix Western series from 2017, Michelle plays Alice… which makes sense, because her body is a Wonderland! Skip to Episode Six to see a disrobe that proves Michelle Dockery deserves no mockery!
Mackenzie Davis stars in The Turning, but she was The Turning-ON in Terminator: Dark Fate. Especially when she was The Turning her other cheeks to camera! Admittedly, it's not our typical nude scene… but given a choice, "I'll be back" will always take a backseat to "I've GOT back!" Come watch this if you want to live.
Amy Madigan is in theaters with The Last Full Measure… but some of YOUR Measurements might fully change after seeing her in Alamo Bay. She plays Glory in the 1985 drama, and is glorious in a sex scene with Ed Harris. Even though this scene is over thirty years ago, it reminds us that if Amy doesn't get NUDE-again, we'll get MAD-again!
Out on Blu-ray is the 1978 action-comedy High-Ballin'… and you might want to get High on Ballin' when you see Helen Shaver! Alas, her nudity in the movie doesn't let us know if she really IS a "shaver"… but with boobs and buns on display, she's at least a Helen to SAVOR and why High-Ballin' deserves Eye-ballin'!
And finally, from the world of TV, the second episode of The New Pope had us thinking Cardinally SINFUL thoughts. That's because the beautiful Cecile De France really phones it in for an unconventional masturbation scene, leading to a Holy SEE! What can I say? The body of Cecile compels us! The body of Cecile compels us! With gratitude to our friends at Mr. Skin, I'm Shannon Blake, and you've been, Hollywood, Xposed.
Video Streaming & Download Options: