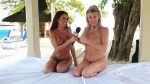 THIS, is Naked News, I'm Tia Larose
And I'm Alana Blaire, thanks for joining us today. Question for you Tia, do you like to be massaged?
Well, massage is the focus of our first feature today, with someone I think we'd ALL like to get our hands on, Ms Frankie Kennedy.
She was in Hedonism with our travel partners at IOS Connections to explore different massage techniques. This should be very interesting!
Video Streaming & Download Options: