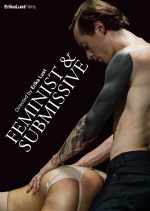 Director Erika Lust
Performers Owen Gray, Lina Bembe, Daisy Bata, Silvia Rubi, Viktoria Vaar
Can you be a feminist and submissive? A round table discussion accompanies a sensual BDSM scene.
I see myself as a feminist. I like to challenge people on their opinions even if they are just a little bit sexist. I care about showing off my female sexuality, and I wish that this was more accepted in our society. My boyfriend probably thinks I would like to dominate a man and overrule him with my female sexuality. But my dirtiest fantasy is actually to BE dominated by man.
A random man who is so attracted by my female sexual expression that he can't resist me. He would grab my filthy ass really hard and tell me that he is going to fuck me no matter what I say. He goes under my skirt and starts to eat my pussy, still with my panties on, while he tells me how much he loves my wet pussy and how much he's wanted it for a long time. He will rip off my clothes and talk very dirty and harsh to me. He will lead the whole act, and I will enjoy being thrown around by a man who knows what he wants. There will be spanking, ass licking, pussy eating, dick sucking and a lot of sex poses that he demands. It will be very intense and in the end I will feel blown away as we both lie down sweaty and exhausted.
— By maybe
Erika's comment What an incredible shoot! I guest star for the first time in one of my films as the host of a roundtable discussion, addressing the quesion "Can you be a feminist and submissive?". I roped in some voices from the BDSM industry, including a journalist and a sex worker, and we had the most interesting, insightful discussion! I was so glad to read this confession, because I know a lot of women identify as both feminist and submissive. The scene between Owen and Lina is also fantastically kinky, and I know you'll love it!