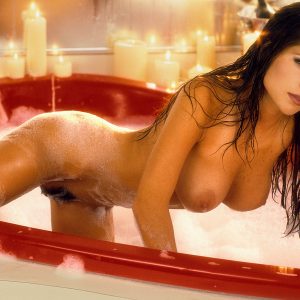 Playmate of the Month April 1997 – Kelly Marie Monaco

Pennsylvania's Pocono Mountains, with their resort hotels, have the reputation of being a honeymoon paradise. Growing up there, Kelly Monaco knew another part of paradise – the great outdoors. With a home on the boundary of a state game preserve, Kelly and her four sisters put in plenty of time hiki ng, climbing trees, fishing, camping and swimming. They were taught to skate by their mother, a former Olympic hopeful and figure-skating instructor. They even helped their father, an avid hunter, build tree stands. As a result, Miss April developed into tip-top shape. And when Kelly did resort to working at a resort, she obtained a job as a lifeguard.
Her duties involved more than merely working on her tan, though she also did an excellent job of that. "One night, I had to make three saves," she says. "There's this adrenaline rush that I can't explain." One of her rescues was a boy who had lost consciousness. "It's an amazing feeling to know that if you hadn't been there, this person may have died," she says. And what an amazing feeling it must have been for the kid to wake up and find Kelly reviving him. Perhaps he thought he had died and gone to heaven.
As a middle child, Kellky says she enjoys being the center of attention. "I've always wanted to be a star. Growing up, I wanted to be an actress." With four years of high school drama classes and five years of lifeguarding under her bikini, might Kelly be destined to follow the path of Playmate predecessors Pamela Anderson and Donna D'Errico to the set of Baywatch? Kelly would like that very much. But if it doesn't happen, we're sure she'll find a way to make waves of her own.