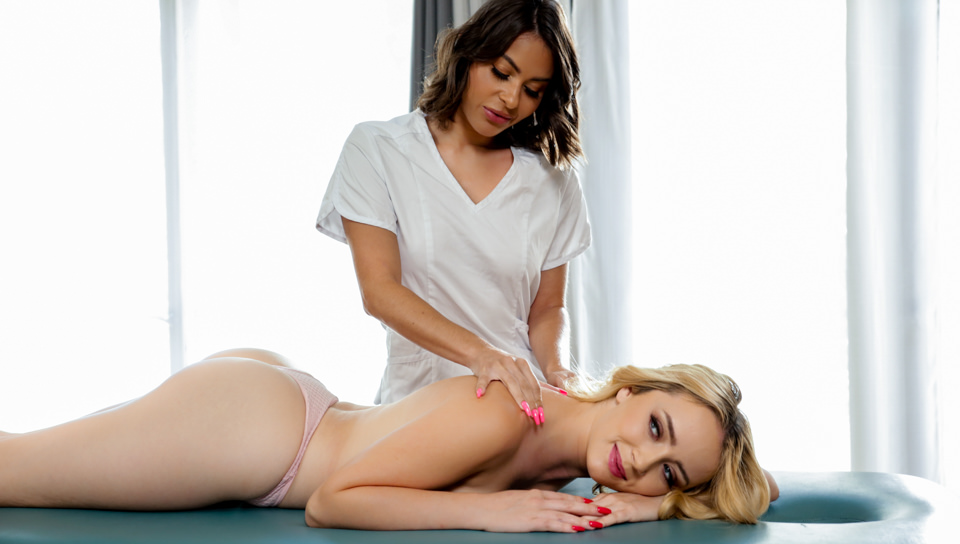 It's Maria Kazi's birthday, and her friends were thoughtful enough to get her a full-body massage! She arrives at the parlour and is greeted by her masseuse, Nicole Aria. This is actually Maria's first time getting a massage, and she can't wait. Nicole assures her that she will do everything she can to ensure Maria has as relaxing and rejuvenating a birthday message as possible. She asks Maria to get fully undressed and then lie on the table.
As Maria strips her clothes off, Nicole can't help but sneak a few peeks at Maria's body, including her amazing ass cheeks and breasts. Maria lies on her front, and Nicole pours some warm oil over Maria's back and ass. Maria loves the feel of Nicole's hands on her skin as they rhythmically work on her knots and kinks. As the massage continues, Maria initiates a bit of small talk with Nicole. It's effortless, and they grow more comfortable with each other through each passing sentence uttered from their lips.
Nicole works her magic from Maria's shoulders down to her toes and heels. As she moves her hands back up Maria's body, she spends a bit more time massaging her ass, which makes Maria ask if this is supposed to be part of the service. Nicole reveals that Maria's friends got her a massage with a 'happy ending' to make her birthday extra special. Maria can't argue with how good it feels and lets Nicole explore every part of her body with her experienced hands. This leads to steamy sex on the massage table, making this one birthday Maria will remember for all time.
Streaming and Download Video From DoodStream