Naked News – Wednesday, September 4, 2019
Transcript:
Welcome to Hump Day at Naked News! I'm Tia Larose!
And I'm Shannon Blake! Tia, have you been following the news about Hurricane Dorian? Well, in the middle of all this seriousness, sometimes we need a little bit of humor.
And one man, intentionally or not, BROUGHT that humor to millions of people online.
Eila's got that and more with Trending Now.
Experts are telling us that extreme weather is only going to get more extreme, but one NON-expert in Florida thinks he's got the solution, which he shared with a local news reporter. Hey, it worked for Superman, right? Over twelve MILLION people have enjoyed this guy's anti-hurricane suggestions so far!
There's a new Deepfake app on the market, and it's absolutely EXPLODING online! Called Zao, it can use an uploaded selfie to put people into movie and TV clips. One man put himself into a few of Leonardo DiCaprio's roles, and in just 8 SECONDS, got this video. Nearly two million people watched that its first 2 days online, and the app is already the most popular download in China.
Mickey Rourke is a damn fine actor, but he hasn't exactly been TRENDING for a while… UNTIL now! His interview on Monday's Good Morning Britain was so bizarre and uncomfortable that it quickly went viral. The Twitterverse characterized Mickey's interview as "toe curling" and "odd"… Yeah, sounds about right!
And the CUTEST thing to go viral recently exists thanks to the senior citizens living at Garden View Assisted Living in Carroll, Iowa. The elderly residents shared their own "back to school" boards to Facebook, offering pearls of wisdom for students. From 93 year old Don's advice that "good students ask questions", to 97 year old Marie's "Do the best you can and have fun doing it", the wholesome tidbits were shared tens of thousands of times. And my heart just grew three sizes!
NOW, it's time for our Hashtag Follow Me pick of the week! Elizabeth Chevalier is the definition of "bombshell". The San Diego-born beauty has flaunted her jaw-dropping curves on Playboy, Maxim, and FHM covers, and her Instagram is truly a wonderland. We NEVER want her to quit modeling, but we have to admit that her "retirement" plan sounds pretty awesome – Elizabeth wants to get involved with therapy dogs for sick and disabled young people. But for NOW, she's offering a KIND of therapy for her MILLION and a HALF followers. So take two looks at her, and call us in the morning! That's what's Trending Now! For Naked News, I'm Eila Adams.
Click The Image Below For Streaming And Download Video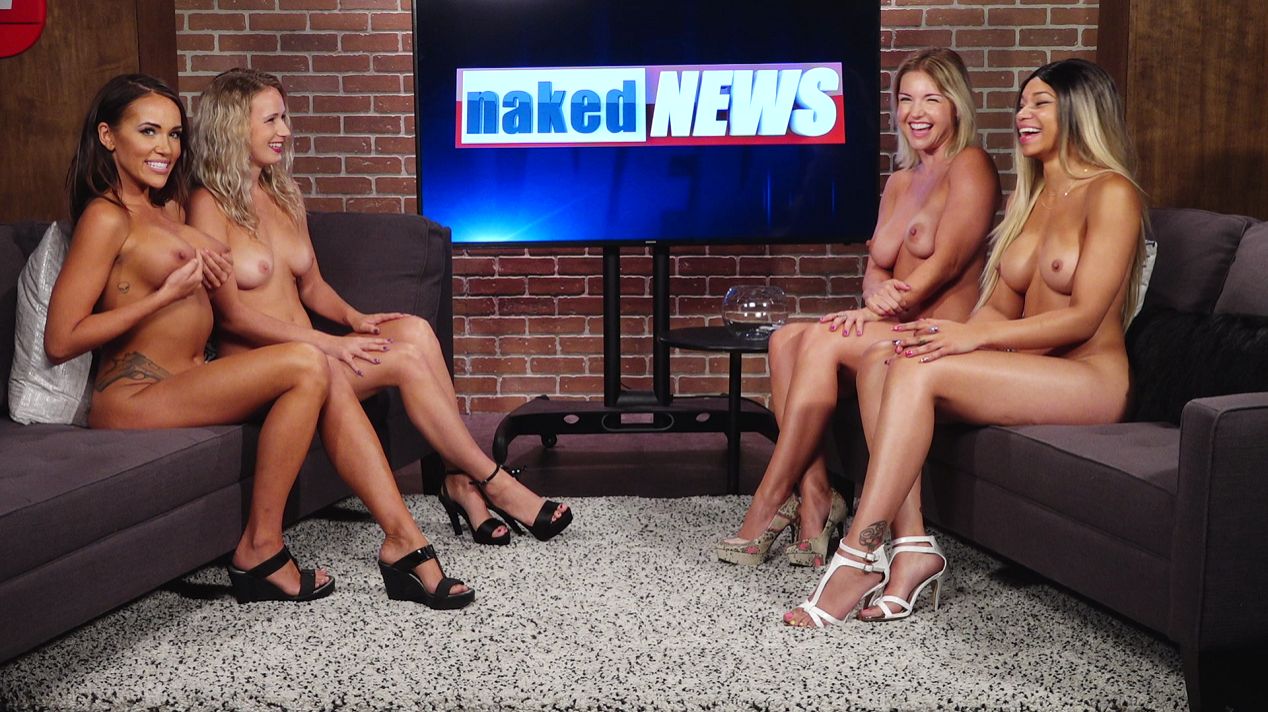 Popular searches to this page
naked news
naked news 2019
naked new
naked
naked news september 8 2019
ali rose tv playboy
ali rose
naked news