Naked News – Thursday October 10, 2019
News off the Top
I'm Frankie Kennedy. Welcome to Naked News! Obviously, around here, we're big fans of breasts, but clearly they're not for everyone. Seems men don't want to have them, and one guy has a GIANT settlement to prove it. Shannon's in the Naked Newsroom with the story.
26-year-old Nicholas Murray has successfully sued Johnson & Johnson for failing to warn him its antipsychotic drug Risperdal could lead to enlarged breasts. And when I say 'successfully sued', I mean a Philadelphia jury has ordered the company to pay EIGHT BILLION dollars in punitive damages! As insane as that amount is, it'll likely be brought WAY down on appeal.
In a new study, researchers from NYU School of Medicine found that e-cigarette smoke with nicotine caused lung cancer in mice. This suggests that nicotine itself, even separate from tobacco, could be carcinogenic. It's worth noting that there've been a lot of conflicting study results over the years. The scientists also note this study was done with a relatively small number of mice, who were surrounded by the smoke rather than inhaling like humans would. Still, DON'T LET YOUR PETS VAPE!
Thousands of counterfeit special-edition Nikes were just discovered trying to SNEAK their way into America. Over FOURTEEN THOUSAND pairs were seized by Customs and Border Protection officers at the Los Angeles/Long Beach seaport. The containers arrived from China, labelled as 'napkins' to avoid detection. If the shoes had been genuine, they would've been worth more than TWO-POINT-TWO MILLION dollars! Check before you buy, folks, because you're likely to see fake Nikes online. Don't go away.
Turn it Up
Thanks, Laura! Next up, we've got the spectacular Marina Valmont who's going to Turn It Up for us! So what's happening in the world of music, Marina?
Well, did you know that Aerosmith is celebrating their FIFTIETH anniversary this year?!
Jeez, that's a hell of a milestone! From what I've read, the fact Joe Perry and Steven Tyler are still ALIVE is a miracle!
They WERE called "The Toxic Twins" for a reason! But these days, the band's still doing pretty amazing things on AND off the stage. And now, they're even getting an AWARD for their off-stage work! It's time to TURN IT UP! It may be a strange award for a BAND, but Aerosmith has been named the 2020 MusiCares Person of the Year! MusiCares provides resources to people in the industry during their times of need. And Aerosmith has long supported charitable initiatives, including Steven Tyler's "Janie's Fund" in support of abuse victims. The band will receive the award at a tribute concert and gala on January 24th, two days ahead of the Grammy's.
Also celebrating its fiftieth anniversary is the Beatles' Abbey Road! A deluxe reissue of the iconic album was released to mark the occasion… and it hit the number one spot on the UK album charts! Still holding up after all these years, pretty amazing!
We have yet ANOTHER 50th anniversary. The Glastonbury music festival is one of the most popular in the world and next June will be its 50th. Tickets went on sale this week, and all, one-hundred-and-thirty-five-THOUSAND of them, sold out in just 34 minutes! Incredibly, over 2-point-4 MILLION people registered for tickets. Rumor has it some very big stars will be performing for the big 5-0. We'll keep you posted!
Sexy songstress Rihanna isn't turning 50, but she HAS announced an upcoming "visual autiobiography" set to be released later this year. The book is described as "an exclusive, inside look into her world", and will include over a thousand photographs. There are actually FOUR versions, including three limited-edition options. If you're thinking of buying, better brace yourself. The basic release is $150, and the most expensive one is over five THOUSAND. Bitch already got her money!
And finally, the guys from Nickelback will see a few more nickels on their royalty checks this month, courtesy of Donald Trump! After the US President tweeted a meme that referenced their 2005 hit "Photograph", people apparently remembered the Canadian rockers actually had a couple of okay songs. That led to a nearly six HUNDRED percent jump in digital downloads of the song! Okay, six hundred percent of a few dozen still isn't a lot, but it does have the much-maligned hosers getting the last laugh. For Naked News, I'm Marina Valmont!
One From The Vault
See, THAT's how to make political wheelings and dealings interesting! All right, it's Throwback Thursday, which means it's time for us to make a fan's day with a special selection From the Vault! This week's classic clip is thanks to an email we got from Zeke in Massapequa, New York! He wrote, "Hey, ladies! Huge fan of naked women, almost as huge a fan of wrestling! I found an old pic online of the legendary Iron Sheik with one of your sexy ladies. Was that from an interview? If so, any chance you could play it again? Thanks in advance!"
You're welcome, Zeke, because we can definitely play it again for you! A few years back, the one and only Iron Sheik visited our studio and sat down for an interview with Whitney St. John. Here it is.
News off the Top Part 2
The United States no longer has the world's most competitive economy! The World Economic Forum's annual report puts the US in second spot, behind Singapore! The ranking is based on factors including a country's labor market, infrastructure, and stability. Singapore scored 84 point 8 out of 100, one-point-one points ahead of the States. Hong Kong, the Netherlands, and Switzerland rounded out the top five.
Florida senator Marco Rubio wants the US government to formally investigate the popular app, TikTok! Rubio expressed concern that the Chinese-backed app poses a national security risk by censoring content that upsets leaders in Beijing. This follows a recent report in The Guardian that claimed TikTok moderators were ordered to censor clips mentioning topics including Tibetan independence, and Tiananmen Square.
And starting this weekend, people will be able to enjoy a stunning view of New York City from the Empire State Building's new 102nd-floor observatory. The viewing area features full floor-to-ceiling windows, and even the elevator up offers a 360-degree view. Sounds to me like it's well worth the twenty-buck upcharge to the regular tour… though I'd have to be careful, because I KNOW I'm King Kong's type! Those are your headlines, I'm Shannon Blake.
Entertainment
I think Shannon's just about EVERYONE'S type, including me! Okay, moving on, Laura's next, RIGHT smack in her wheelhouse with the the latest entertainment news. What do you have for us pretty lady?
I'm all about celebs behaving badly today Frankie. I've got scandals, salacious stories, lawsuits – the works!
Sounds like just another day in Hollywood to me!
Okay, that may be true. But I think we all love hearing about celebrities getting CALLED out on their dirty deeds! Let's get to it shall we! We'll begin with Robert De Niro. Yeah, we're talkin' to him! The acting legend is being sued by a former assistant who says he was verbally abusive, made sexual comments to her, and was a hostile drunk. She claims he'd joke about his Viagra use, and ordered her to scratch his back as part of her duties. She's demanding twelve million bucks in damages. So, just a li'l bit.
James Franco's next! Two former students at his "Studio 4" acting school in LA are looking to build a CLASS ACTION lawsuit against the Disaster Artist star! They claim that Franco and his partner used the lure of auditions and roles in his films, to persuade young, female students to get naked. They allege he pressured the women to simulate sex acts, and went far beyond industry standards.
A well-known DJ is taking a legal swing at Oscar De La Hoya! DJ David "Tattoo" Gonzalez says he was hired to lead several entertainment projects for De La Hoya's company. There, he says he found himself doing INSANE and definitely NOT DJ-related tasks like getting the former boxer out of, quote, "life-threatening situations while he was highly intoxicated and under the influence". No way to SPIN that!
Erin Heatherton is a former Victoria's Secret model, and one of Leonardo DiCaprio's model ex-girlfriends. She's in legal hot water over claims she's been living the high life WITHOUT paying the bills AND for allegedly hiding assets! She filed for bankruptcy earlier this year, claiming under seven thousand dollars in assets on OVER a half-million dollars in debts. Her former business partner claims Heatherton screwed HER over, too.
And Kylie Jenner buying a car might not be illegal, but she still managed to turn a lot of her fans OFF with her selection! The cosmetics mogul recently shared a video of her brand-new THREE MILLION dollar Bugatti Chiron to Instagram. Instead of likes and compliments, Kylie was SLAMMED with comments blasting her for wasteful extravagance while so many people struggle to make ends meet. Kylie deleted the post, but probably DIDN'T return the car. That's this week's "naughty stars" edition of Entertainment, I'm Laura Desiree.
Closing Remarks
And that brings us to the wrapup! Eila's joined me, and because it's Thursday, we're going to read some of your feedback e-mails.
I'll get the ball rolling with this one from Ethan, whereabouts unknown. He wrote, "I just noticed from the closing remarks segment dated Thursday, October 3rd, 2019 that when the anchors talk to random ordinary people on the streets they start off fully clothed and then without warning remove their shirts often times in front of women. Some of whom get weirded out and run away. I hear a lot of preaching about consent. Where is the consent here?"
I'm not quite sure I get the issue, Ethan? Toplessness is legal here for men AND for women. Nobody expects men to ask anyone permission to take their shirt off in public, so there's no need for a double standard! It's not like we're grabbing people's asses or something!
The next email is from Gavin, in Cape Town, South Africa. He says, "Regarding one of your Odds and Ends stories on Oct 4th, there is also a KIT KAT chocolatier in Melbourne Australia where you can customize your own Kit Kat. Just for your information. Keep up the good work Eila! I love your nipples."
We all love your nipples. And thanks for the info, Gavin! Looks like there are actually a few of them around the world. The London ones we reported on are special pre-Christmas ones, and are the first in the country.
I have an email here from Mark, and he wrote, "Thank you NN anchors for taking up the "Get-Up" Challenge during the "Viewer's Mail" segment. Nude, dancing women are always a work of art. Yet, my one complaint about the segment was that your editors left too much of that footage on the cutting-room floor.J"
If you're not sure what Mark's talking about, here's a quick peek! You can catch the full segment in our Archives, dated October 6.
And the last email today is from Steven, in Grand Rapids, Michigan. He says, "Love your program, you're all so beautiful. I have been a fan of Emily Addison for some years now, thanks for having her on. I'd really love to see her back on your show, maybe hosting alongside Cassaundra Kelly, who is awesome in her own right. Amazing guests lately, please keep it up and thanks for making my day more enjoyable."
We'd like to thank everyone who wrote in! If you've got a question, comment, or anything else to share with us, you can email us at [email protected]
We read everything you send in, and we answer as many as we can here on the program.
We'll see you back again tomorrow, for the start of our Weekend programming! Shannon and Alana will be your hosts so make sure to tune in.
Until then, take care everyone.
Click The Image Below For Streaming And Download Video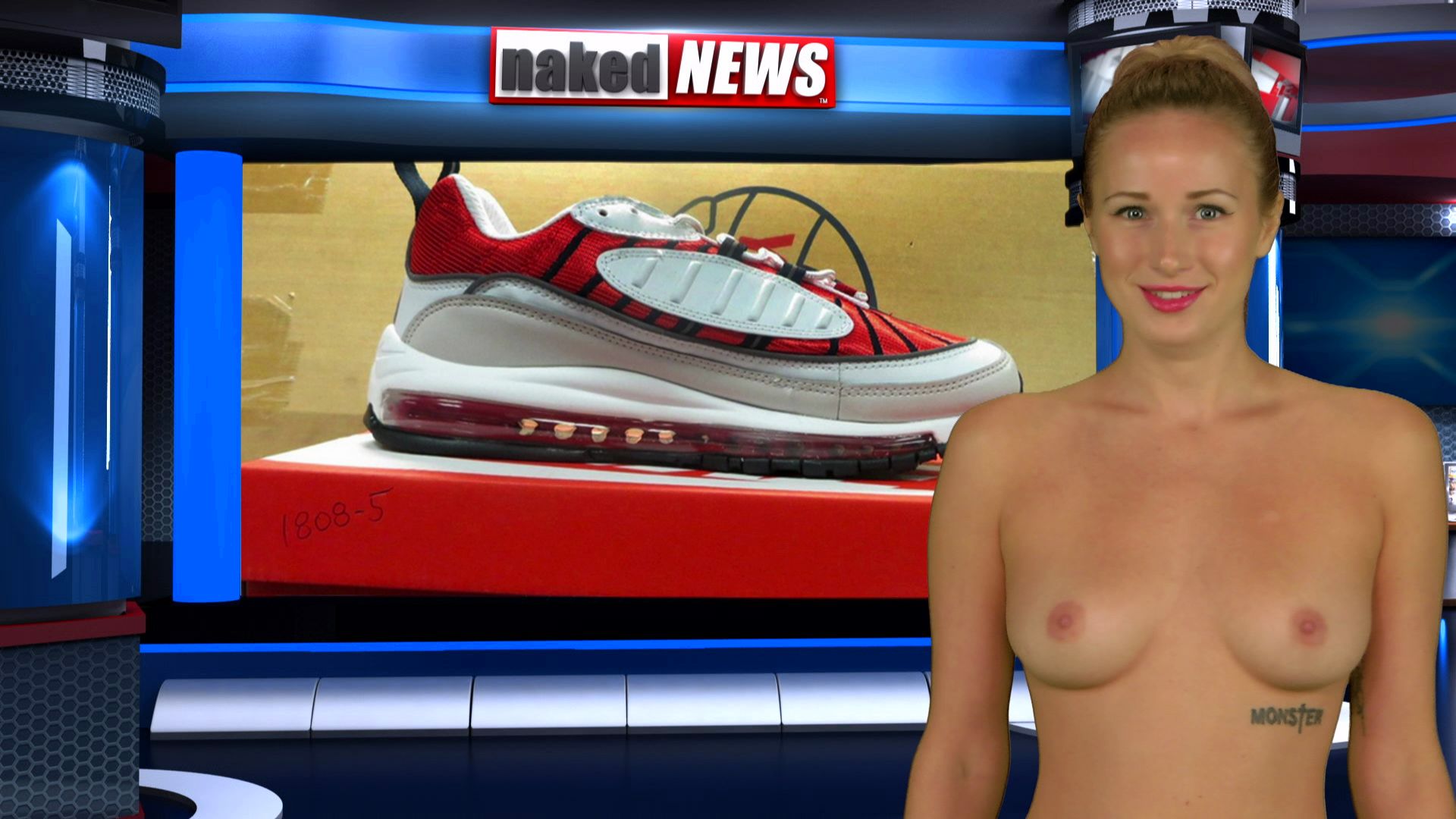 Popular searches to this page
naked news
naked news 2019
victoria june
nadia ali