Naked News – Sunday September 15, 2019
Transcript:
Hello to you all, welcome to Naked News Magazine! I'm Eila Adams.
And I'm Marina Valmont!
First up today, we've got more from this year's Toronto International Film Festival! Before we get to it though, how involved do you normally get with all the goings on surrounding TIFF? Well one person who's completely immersed herself into this year's TIFF, is Laura.
She's had quite the adventure, hobnobbing with stars on the red carpet, attending premiers… it's a rough life!
And through it all she's had a camera in tow, capturing all the magic. Let's have a look.
The Toronto International Film Festival is my favorite event in this city I call home. Hollywood's hottest are here, along with films that run the gamut from 'most buzzed-about' flicks awaiting wide release to international gems you may only encounter once in a lifetime! And this year's fest was the most special of all, because I snagged a spot on the prestigious press line!
My red carpet experience started at the breathtaking biopic of French New Wave star, Jean Seberg. She's played by my ULTIMATE girl crush, Kristen Stewart, and I had the privilege of speaking with her, co-star Zazie Beetz and director Benedict Andrews. I also attended the film's official Press Conference, where I got further insight into this artistic and harrowing tale.
That evening, we worked one of the biggest red carpets at the festival: the World Premiere of the star-studded stripper-flick, HUSTLERS. The cast was in attendance and dressed to IMPRESS!
That was when I learned what a red carpet REALLY is. A wild press frenzy, with everyone fighting the roar of screaming fans to try and catch a moment with the film's biggest star. In this case, the divine Jennifer Lopez.
Alas, I was denied one-on-one time with J-Lo… but I WAS able to nab a spot stage-side for the film's official festival introduction by Director Lorene Scafaria.
Next up, we found ourselves shoulder to shoulder with the top media outlets on the red carpet for FORD V. FERRARI.
I tried not to take things personally after being snubbed by Matt Damon and Christian Bale. Thankfully, actor Sean Carrigan and director James Mangold did give me the time of day… as well as a great soundbite!
I was once again thrust to the front of the stage for the debut screening… and at the official press conference, I wowed the world by asking THE MOST important question of the fest!
3 days in, I was starting to unravel on the red carpet, which felt more like a battlefield. The fight for face-time with stars is exhausting! Especially since, really, they should be fighting for face-time with me!
It was at the North American premiere of Todd Phillip's "Joker" that I felt the most challenged. Bloodthirsty members of the press clawed at the rope for the chance to pose even ONE question to the famously elusive lead man Joaquin Phoenix who, well…. walked on…. REAL FAST!
Our big finale was at the dazzling carpet for Judy… and now, I was battle-tested and truly a Red Carpet Warrior. I saddled the beast of the Press Line-up and successfully steered my microphone to the face of the film's star, Renee Zellweger!
I'm proud to say that I met this entire challenge with a fearless approach… and it didn't break me. In fact, surviving multiple days of the festival press line has left me with an appetite for much, much more! Let this be my declaration to Hollywood….. I'm coming for you! But first…. I really need a foot massage!
Hope you enjoyed my adventure, and don't worry: those interviews will be featured in Naked at the Movies for weeks to come. Until then, for Naked News, I'm Laura Desiree!
Click The Image Below For Streaming And Download Video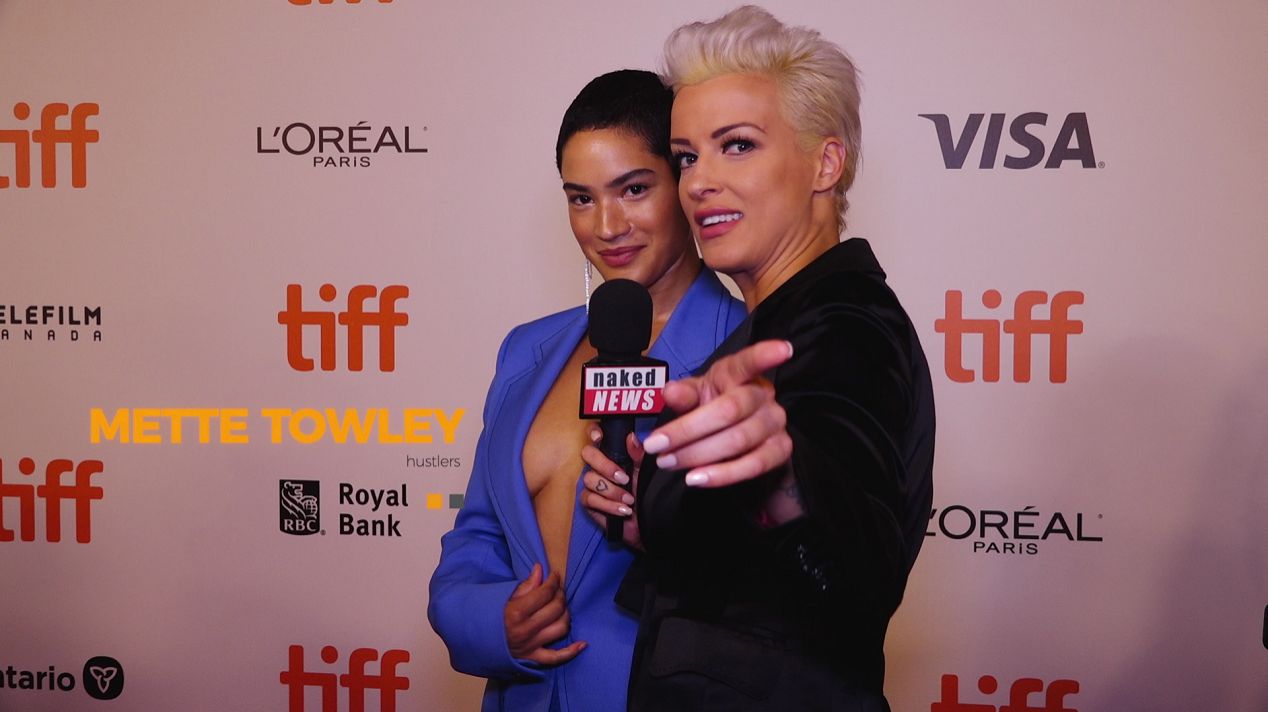 Popular searches to this page
naked news
naked news 2019
naked
french
hustler chris
hustler
jennifer lopez