Naked News – Sports – Monday, October 7, 2019
Thanks, Laura.
Tia, in life, have you ever gone on a crazy winning streak? Well, it probably feels like old hat for the New England Patriots… but they just keep on winning!
Frankie's next with, the now 5-and-0 Patriots, and more from WEEK 5 in the NFL, in her naked sports report.
Tom Brady will likely go down as the greatest quarterback in history, and in the Patriots' 33-7 victory over Washington, he further cemented his legacy. Throwing for 348 yards, the 42-year-old pulled ahead of Brett Favre to take third place on the career list with 71,923 yards passing. He's now just seventeen yards behind second-place Peyton Manning. That long-term success is all the more impressive when you consider what quarterbacks go through. Witness what happened to Steelers QB Mason Rudolph in their game against the Ravens. Rudolph had to leave the game with a concussion, and though undrafted rookie free agent Devlin Hodges did his darnedest, the Steelers would go on to lose 26-23 in overtime!
London is a city known for its theater, and the Oakland Raiders provided plenty of it on their European excursion. The Raiders jumped out to a 17-NOTHING halftime lead against the Chicago Bears… and managed to blow that lead in the third quarter! Thankfully, Josh Jacobs, selected with a pick acquired in the Khalil Mack trade, had a little more left in the tank! That and a late interception were enough to give the Raiders a well-earned 24-21 victory.
Meanwhile, back stateside, the Carolina Panthers were making history in their 34-27 victory over the Jaguars. Kyle Allen became the first undrafted QB since Kurt Warner to kick off his career with four straight wins. And even more impressively, with 237 yards total, Christian McCaffrey now has 866 YARDS of offence in his first five games, second only to Jim Brown!
Israel Adesanya's rise through the UFC can only be described as METEORIC! He made his debut in February of last year, and in UNDER TWO YEARS, he has become the undisputed middleweight champ! In his title match at UFC 243 over the weekend, he knocked out Robert Whittaker in the second round. That ended a nine-fight winning streak for Whittaker… and ushered in the age of The Last Stylebender, who is now EIGHTEEN-and-oh, with fourteen wins by knockout!
In boxing, Gennady Golovkin took back the IBF world middleweight title by beating Sergiy Derevyanchenko, but it wasn't the easy victory his fans had been anticipating! After knocking down his opponent in the first round, Triple G couldn't seal the deal, and the bout went the full 12. He took the title in a tight, but unanimous decision.
WWE Smackdown had a pair of massive battles on the card, and they did NOT disappoint! In the main event, Brock Lesnar used his trademark F5 to best WWE star Kofi Kingston and take the championship. But a surprise appearance by former UFC champ Cain Velasquez ended with the Beast making a hasty exit. And in the BIGGEST event of the night, Becky Lynch was joined by THE ROCK in her match against Baron Corbin. If you can't guess who WON, well, you clearly aren't a wrestling fan! I'll spell it out as a courtesy: Corbin smelled what Lynch and the Rock were cooking! That's the final bell on my Naked Sports report! For Naked News, I'm Frankie Kennedy.
Click The Image Below For Streaming And Download Video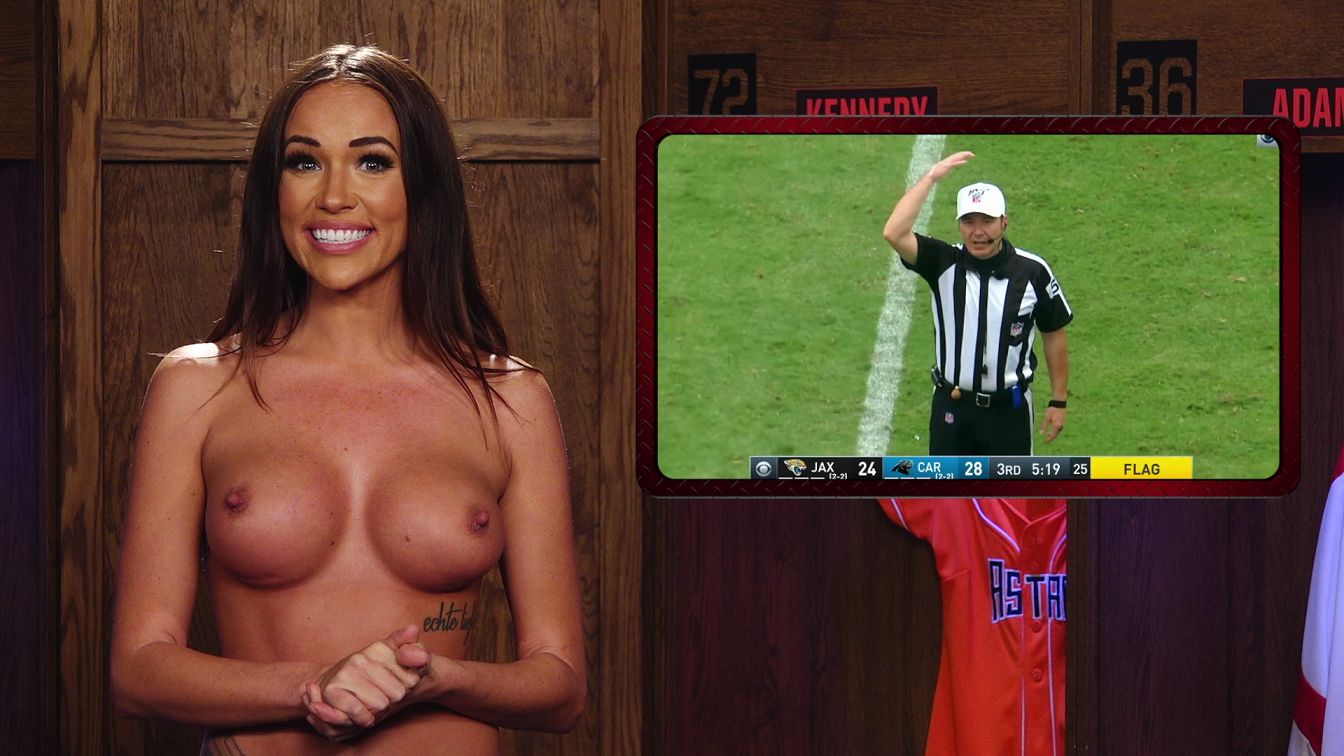 Popular searches to this page
naked news
wwe
naked news 2019
naked news october 7