Naked News – Friday October 11, 2019
Naked In The Streets
You're watching NAKED NEWS, I'm Alana Blaire!
And I'm Shannon Blake, welcome everyone.
Here's a question for you Shannon. If you could only listen to ONE song for the rest of your life… what would it be?
Well, this was the question Frankie Kennedy wanted to poll the public on, and she went Naked in the Streets to find out.
Odds N Ends
In Odds 'n Ends this week, a pair of enterprising – but NAUGHTY – people recently hacked into a highway billboard and set it to broadcast PORN! The billboard was on the side of the I-75 in Auburn Hills, Michigan, and the two pervy perps broke into its control shed to pull the prank. Interestingly, while showing porn to random drivers is only a misdemeanor, the break-in part of the scheme is a FELONY.
The French Spiderman is at it again! Alain Robert was arrested after scaling the 42-story Skyper skyscraper in Frankfurt, Germany. The 57 year old urban climber is famous for his climbs around the world, often without equipment and usually without PERMISSION. He's even climbed Dubai's two thousand, seven hundred, and seventeen foot Burj Khalifa, the tallest building in the WORLD!
The tenth annual Wasteland Weekend recently wrapped up, and it was one hell of a post-apocalyptic party! About four thousand dystopian fiction fans got together in the Mojave desert, making for a Mad Max-esque scene. Every year, attendees draw style inspiration from that franchise, and the place teems with decked-out cars and costumes. Plus live music, robot battles, and most importantly: YES, there's a Thunderdome! That's WAY cooler than Burning Man! Stay tuned for MORE, Odds N Ends.
Nude and Improved
Would you attend a high-intensity, high concept event like that?
Next up, we've got an experience in acupuncture with Laura Desiree! Have you ever tried it?
Well in her continuing series on enhancing your health NAKED, Laura couldn't resist the allure of the this particular form of ancient Chinese medicine.
Here she is with Nude + Improved.
Naked At The Movies
Next we have something for all you film buffs out there.
Eila's Naked At The Movies, to tell you about 2 new releases hitting theaters this weekend.
Gemini Man answers the question 'What do you get the Will Smith fan who has everything?" The answer? Two Will Smiths! In this Ang Lee thriller, Smith plays both a veteran assassin and the clone of himself sent to kill him. Obviously, it's an effects-heavy endeavor… but it's also a big acting challenge, a dual role that clearly required some philosophical exploration!
All right, truth be told, the critical consensus seems to be that this movie doesn't quite deliver on its incredible promise. But it still features a movie star who's always at the top of his game, along with a co-star who's at his level… because it's him. And, of course, the action is top-notch! Someday, there will be a movie with two Eila Adamses, and we'll have reached the apex of cinematic glory… but even if all I get right now is great Smith vs. Smith, that's still worth the price of admission. Gemini Man is in theaters now.
Jexi is the perfect movie for people who are obsessed with their phone and are prepared to laugh about it. It's basically the movie Her, if it was a comedy. Adam Devine stars as Phil and Rose Byrne is the titular voice… and one of the scariest examples of AI we've seen since 2001: A Space Odyssey! Okay, I know we're supposed to be rooting for the human… but I really want that phone! Jexi is in theaters now. I'm Eila Adams, and I'll see you next time, Naked at the Movies.
Odds N Ends Part 2
Smartphones, smart TVs, smart glasses and smart… JACKETS? Google has paired up with Levi's to combine tech with clothing. The Levi's Trucker Jacket with Jacquard features a Bluetooth-enabled device in the left cuff. The device is essentially a touchpad that vibrates when you get notifications, and lets you answer your phone and control your music. And naturally, it can also act as a shutter button for your phone camera, so you can take selfies.
It usually takes a dramatic fall to get a runway model noticed. But model Leon Dame's CRAZY walk at the Maison Margiela Spring 2020 show was absolutely the TALK of Paris Fashion Week! Check this out: Personally, I think he was just REALLY PISSED at having to wear that bizarre hotpants-cinched leather-heels-and-hat getup! But it DOES look like fun…
Finally, would you smoke TOAD VENOM for a buzz? Well, it turns out that's exactly what New York City's psychedelic drug fans are doing these days! At least the ones who can afford a couple hundred bucks a try. They're getting a mind-altering experience from the substance, which is milked from Colorado River toads, then dried to a resin. Users describe their trips in terms like "shooting through the universe", "being reborn", and "a total fusion with god". Sounds to me like a great orgasm, just a lot more expensive! Those are your Odds 'n Ends for the week, for Naked News I'm Marina Valmont!
HollywoodXposed
I have to ask, Shannon, whats the most psychedelic experience YOU'VE ever had and, what were the substances involved? Well, our next feature may have you think you're tripping out… but we assure you, these are all REAL celebrities, REALLY naked!
And it's all courtesy of our friends at Mr Skin. Here's Whitney St. John with Hollywood XPOSED!
Mary Elizabeth Winstead is now starring in GEMINI Man, which makes sense, since she showed off her TWINS in 2018's All About Nina. In the titular role, Mary, Mary is far from contrary, and makes more than her garden grow. Especially since she takes a page from Naked News and practices her standup topless!
Charlize Theron is in The Addams Family providing the voice of Morticia… but she provided the everything DELICIA in The Burning Plain. In the 2009 drama, the lovely Miss Theron gets darin' with her barin', and proves you don't need a full disrobe, as long as you're open about it!
Out on 4K Blu-ray is the 1988 action-comedy Red Heat… and no one was red hotter in it than Gretchen Palmer! Granted, her naked time on screen is brief and she spends most of it wanting to get away… but hey, a naked spin with a gun is always worth a shot! I say Gretchen is Fetchin' and worthy of a Palmer!
In this season's seventh episode of Power, Candace Maxwell puts us in seventh heaven with her Power-ful sex scene! Breasts AND buns are on full display, as Maxwell makes us well to the max! It's no wonder her character's name is Cassandra. As in "See ASS and RA"….Ra being the Egyptian god of great breasts!
And in the second episode of the Epix series Godfather of Harlem, Marie Rose Baramo makes us an offer of nudity we can't refuse! But enough about The Godfather, let's focus on the Harlem, 'cause there's no denying her Globes are Trotters! To directly quote Bob Dylan, "Oh, where are you tonight, Sweet Marie?" With thanks to our friends at Mr. Skin, I'm Whitney St. John, and that's Hollywood Xposed.
Closing Remarks
And thus concludes another fun-filled day with the ladies of Naked News, hope you enjoyed it!
Alana and I will be back to host you through this weekend's SENSATIONAL Naked News Magazine
And it's a fabulous thrill-pack you don't want to miss because it includes your first look at Laura's incredible European cruise with our friends at Luxury Lifestyle Vacations
Eila's also out and about, in Jamaica this time, with a sexy, sweaty Flex Appeal to heat up your screens.
Plus of course, more stories and features from your favorite anchors.
[email protected] is where to send in any questions or comments you may have, and social media is the place to follow all our adventures.
All the links to our pages are on our homepage including our most adventurous account, our Premium Snapchat. Get connected today!
Take care everyone, we'll see you back here very soon.
Click The Image Below For Streaming And Download Video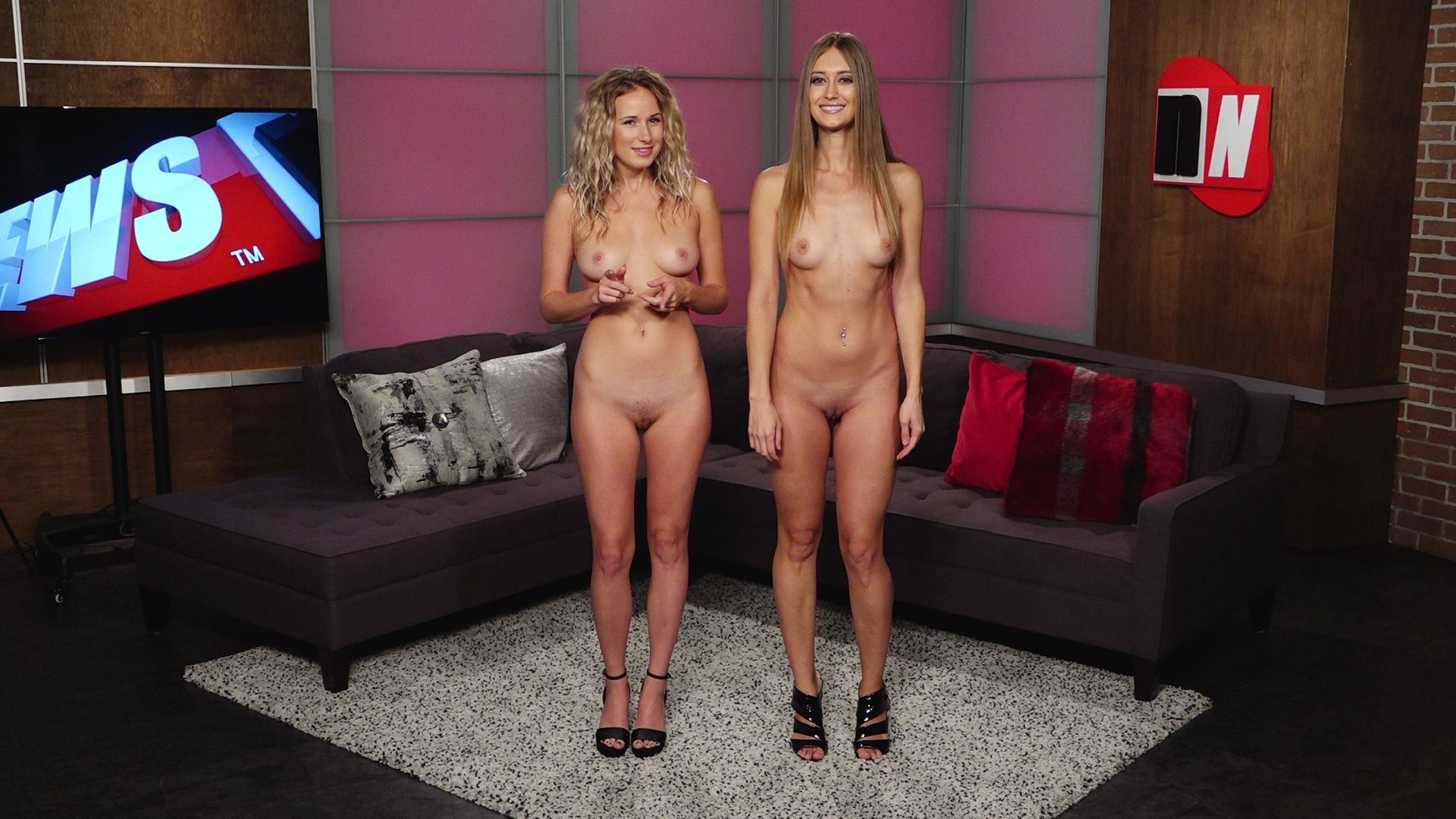 Popular searches to this page
naked news
naked news 2019
public nudity
rape
celebrities
whitney st. john
as seen vs. ass scene