Naked News – Friday August 9, 2019
Transcript:
Welcome to Naked News everyone, I'm Eila Adams!
And I'm Marianne, it's great to have you with us!
Now Marianne, we've both been naked on some pretty major productions for either film or TV, can you tell us what it was like to be nude in THAT kind of scenario? Well, kicking things off today is a selection of actresses with PLENTY of nude experience on set!
Here's our weekly run down of Tinseltown T&A.
I'm TL, and it's time to get Hollywood Xposed, with the help of our friends at Mr. Skin.
Amanda Seyfried stars in The Art of Racing in the Rain… but she mastered The Art of Racing THROUGH OUR MINDS with her nude debut in 2006's Alpha Dog! Of course, it helps that she was stripping down side-by-side with AMBER HEARD! Despite the title, this is one Alpha Dog that for sure doesn't bite!
Xosha Roquemore is in theaters with Brian Banks… and she's in minds with SPANK Banks, thanks to her work in I'm Dying Up Here. In Season 2, Episode 4 of the Showtime series, Ms. Roquemore ROCKS MORE by giving us a variation on Newton's first law. Namely, a Xosha in motion tends to stay in motion. Too bad about the interruption!
Michelle Williams can be seen in After the Wedding, and you'll really want to put a ring on it after watching Blue Valentine. The 2010 drama features multiple sex scenes between her and Ryan Gosling, which I guess makes her the goose, and she's totally good for a gander! There's no confusing Michelle with Michelin, because of her, we never TIRE!
Out on DVD now is the thriller Among the Shadows, and we're glad Gaelle Gillis isn't TOO among the shadows! True, if we were lighting the scene, Hollywood would've replaced Paris as the City of Lights! Especially since the scene needs to be top-lit and bottom-lit. But don't let us scare you off: this scene, like any nude scene with Gaelle, is LIT!
And from the world of TV, Gaite Jansen brought Jett to new heights in Episode Eight. Here, she uses her toplessness to distract some workers, and it seems to work, though she definitely increased OUR concentration! Men on a budget should remind ladies that Gaite's from the Netherlands, because once they know that, I guarantee they'll want to go Dutch! That's all for this week's celebration of celebrity skin, for Naked News, I'm Tia Larose.
Click The Image Below For Streaming And Download Video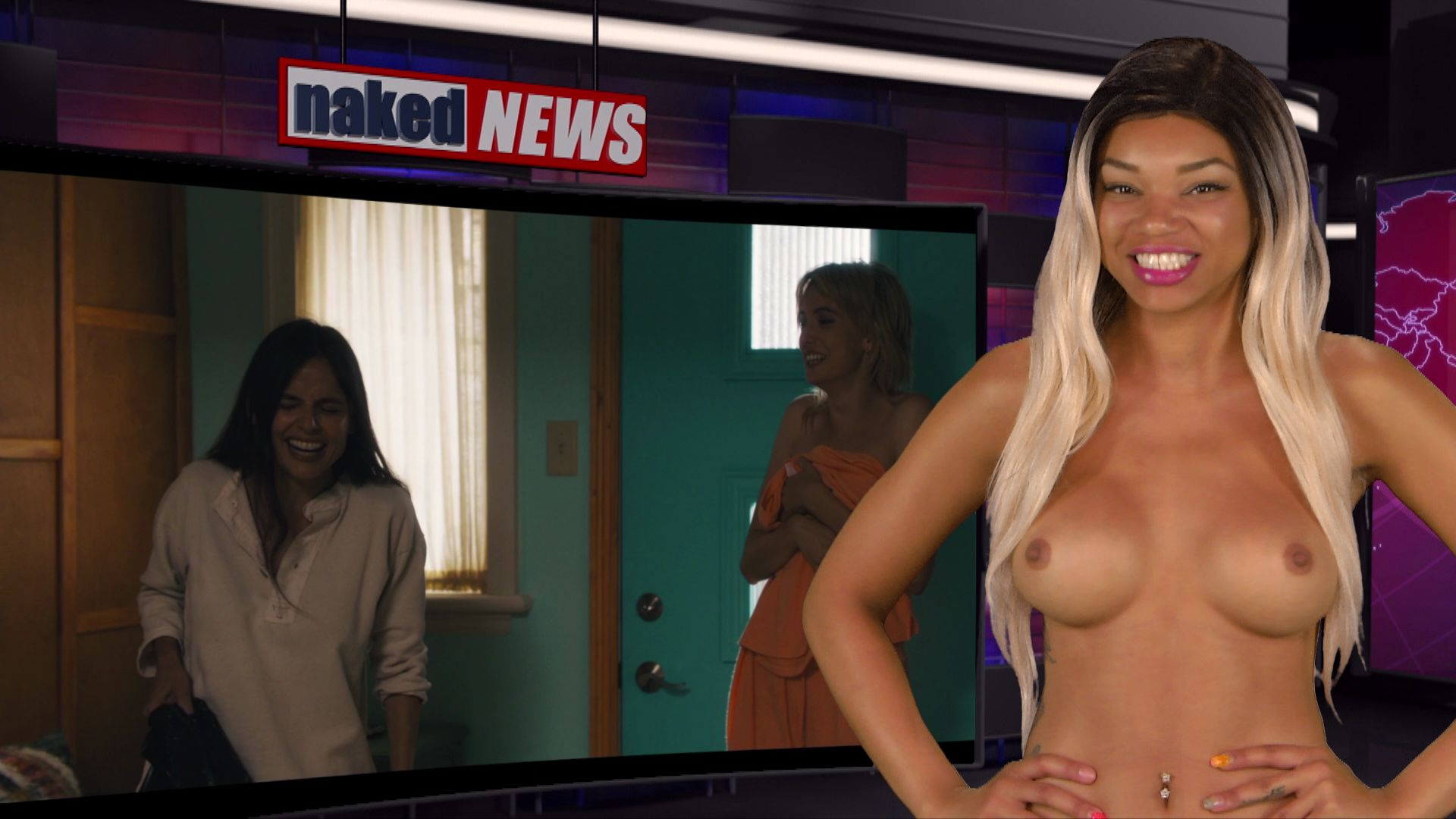 Popular searches to this page
naked news
naked
naked news 2019
naked newds friday august 9th
news
end of day sex - film
celebrity
trans
marianne
eila adams
wedding day
xosha roquemore nude
maria rya