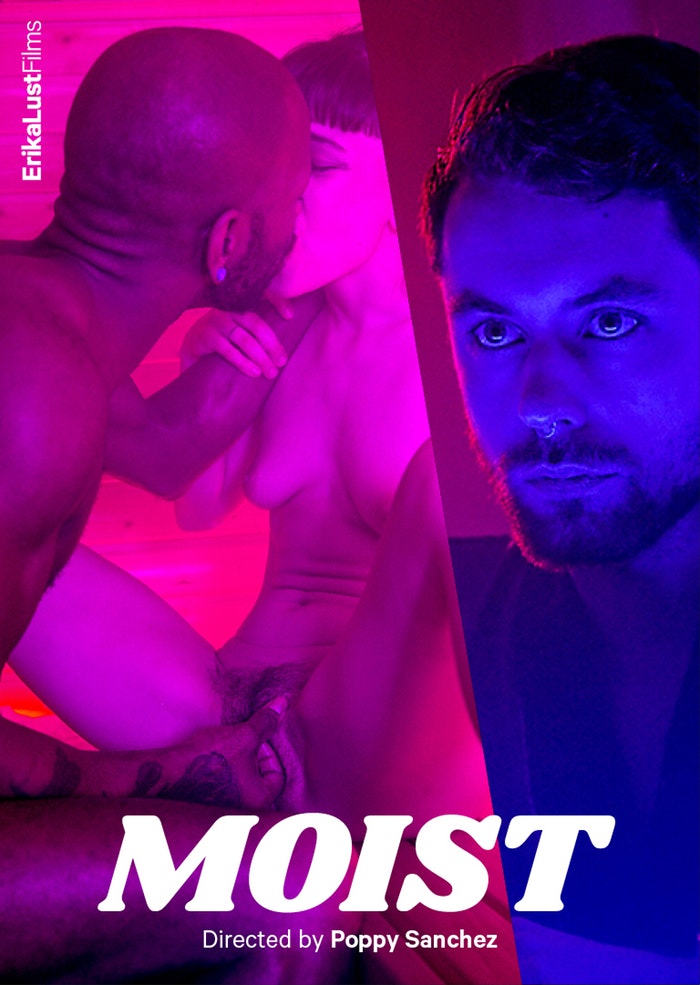 XConfessions by Erika Lust, Moist
4 March 2021
Director Poppy Sanchez
Performers Bishop Black, Paulita Pappel, Dante Dionys
Poppy Sanchez join the XConfessions series for a neon-soaked, voyeuristic threesome.
My first time in a swingers' sauna. Everything was pure sex around me. He took my hand and drove me to the "wet part", with the huge Jacuzzi in the middle of it. We smiled at each other, got rid of our towels and let the warmth of the water embrace our naked bodies. There were a few couples around us, some of them just chatting and relaxing, the others engaged in several types of sexual activity. We sat in the corner, he put me on top of him and started fondling my hair with a look full of tenderness and desire in his eyes. We kissed, our tongues making tours and expressing how much we wanted each other. There, in front of other people. He started caressing my breasts and gently sucking my nipples: that was going to drive me insanely horny and he knew it. My hand found his perfect erection and started going up and down along it, encouraged by the little moans of pleasure coming out of his mouth, while his fingers found my clitoris, then the entrance of my pleasure, and at that point I was moaning way louder than him, since he knew exactly which spot to hit. He made me sit on the side and spread my legs. He leaned down to kiss me as his sex was found its way through my labia. His first moves were slow, as he was trying to adjust to my body, to establish a connection; then, when he felt totally at ease, he began to really make love to me, hard, fast, reaching the most remote corners of my body and soul, giving me pleasure as no one had ever done. I wanted more of it, I wanted it deeper, so I turned around, offered him my back and my bottom to contemplate as, again, his cock invaded my vagina and his moves drove me to another planet. The fact that a bunch of other people could see us was duplicating the excitement, and their moans added to our amazing intercourse, which was just too much to bear: I exploded in a powerful, loud orgasm and I could feel the juice of it dropping out of my sex. He kept on moving into me for a while and I almost came again when I felt the warmth of his semen on my skin.
— By Nico & Giulia
Erika's comment
I loved Poppy Sanchez's fun, bright, sexy and totally original porn when I first saw it, and I was so excited to get her on board for a film for the XConfessions series. She's so cool – and so are her films. This film features Dante Dionys as a not-so-shy voyeur watching Paulita and Bishop having sex in a sauna and it is unbelievable steamy… I particularly like the POV shots!
Video Streaming & Download Options