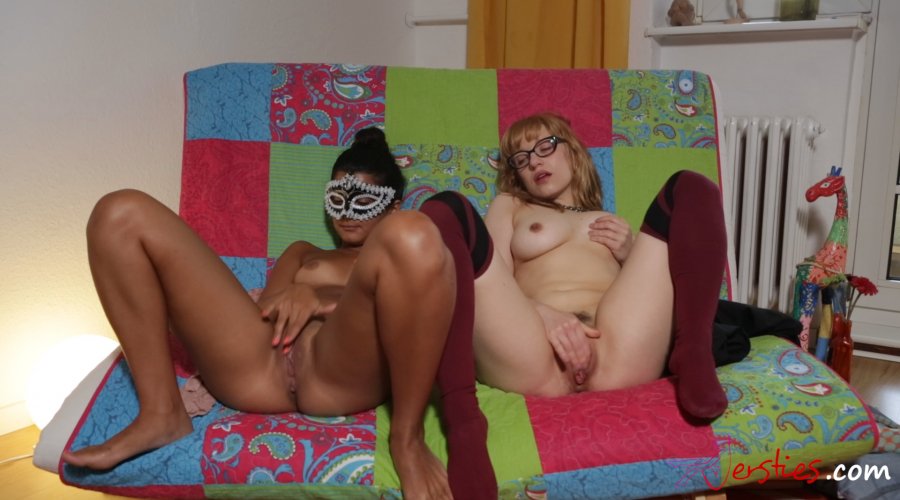 Ersties.com – Paola & Natalia
12 May 2021
Natalia, blonde Student from Poland is making her friend Paola an "indecent proposal". And this in front of a running camera! She agrees, as her boyfriend is luckily not present. She always wanted to have something with a girl…
Paola and the Sexy Seductress
Who could she be? That beautiful woman with the alluring mask? Locks of her curly black hair softly fall on her dark, smooth shoulders as she approaches Natalia. She leans in to capture her scent and learn all there is to know about her and her sex life.
Under her spell, Paola is happy to oblige. She is lucky-in-love and swept away with the fantastic sex she has with her new lover. She used to like it rough, but now she's settled down a bit and likes to take things slower. But it still turns her on when things get a little out of hand and she gets a slap on the ass. Followed up with some cuddly vanilla sex to round things off.
Natalia, on the other hand, very happy being single and not owing anybody an explanation. Her life motto is simple: "Have fun"! She's got nothing to hide and so, she can be straightforward to Paola about what she wants. To have sex with her. Plain and simple, nothing more and nothing less.
Paola is pretty turned on by such a direct advance, and, well, her boyfriend isn't around to cure the itch… So, you can surely guess how she reacts to N.'s insistence. But does she really?
Come find out for yourself!
Interview with Paola & Natalia
Paola & Natalia in action part 1
Paola & Natalia in action part 2