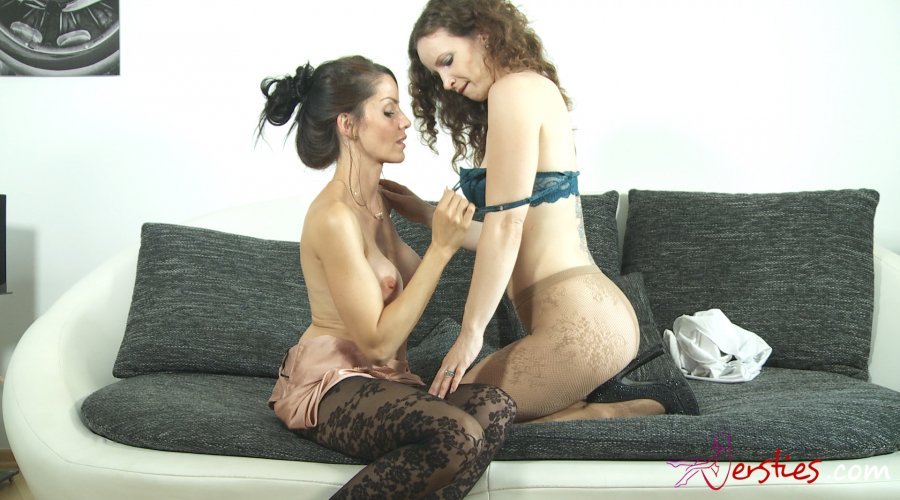 Ersties.com – Miriam & Anika love to be watched…
20 April 2021
Anika is eager to find out more about Miriam, an art student who loves to draw. Aside from that, she has a dog that she likes taking for walk, whether rain or shine. Staying active is important to Miri, too – pilates and yoga in particular keep her in shape.
Of course, sex is another great form of exercise. In that regard, she and her boyfriend are very much on the same wavelength. They are both very focused on their bodies and appearances. Miriam digs deeper: with pilates, things can get very acrobatic. Does her flexibility affect her sex ability? Well, Miri doesn't want to divulge her most private sexual secrets – at least, not just yet…
But she does happily admit to owning a "love swing", which helps her try out all sorts of different sexual positions. It's placed in front of a huge mirror so she and her lover can watch themselves in action from every angle. Anika finds that super hot and is burning to hear more. Anika recently got married – even though she's bi. She had her first girlfriend at age 14. She can still remember her experiences with Julia very well. Miri's first same-sex experience was with a girl named Nadine. She was also only 14, but continued to have increasingly heated affairs with other women as she got older. Both Miriam and Anika love to be watched while they have sex – which is perfect for our trusty camera, ready to capture whatever it is they want to show us!
Interview with Miriam & Annika
Miriam & Annika in action part 1
Miriam & Annika in action part 2