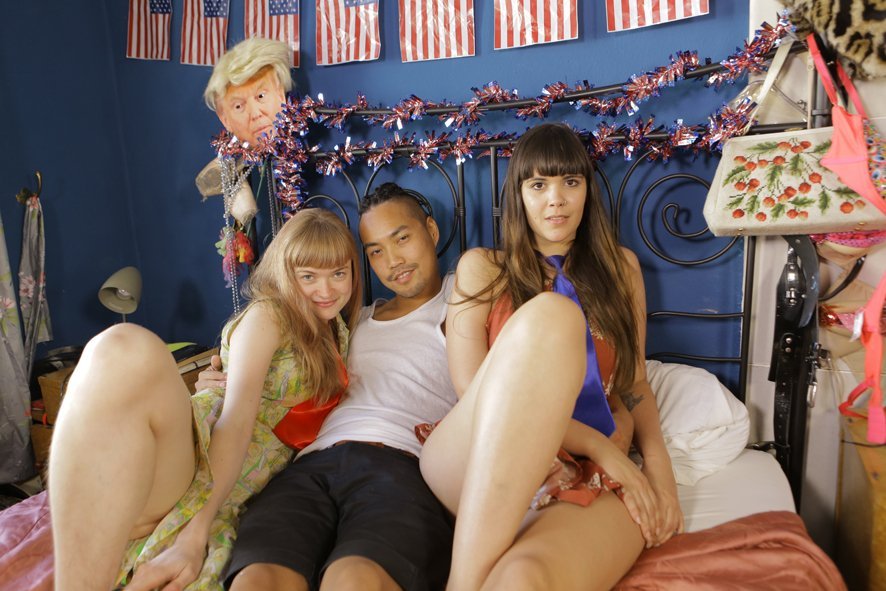 Ersties.com – Laney & Blake & Rex – The threesome champion
1 April 2021
We have two Australian girls with an insatiable appetite for new adventures. And because traveling can lead to crazy new experiences, this time they are going to have a threesome with artist Rex, a total stranger – while the Ersties camera is rolling.
The lucky boy Rex won a hot threesome with our two lovely ladies, Laney and Blake. They met in Melbourne about a year ago and decided to quit their jobs and travel the world. And of course, Berlin was their first stop, because it's the best town for a modern version of sex, drugs and rock 'n' roll – and who could claim the expert status for the first one, if not Ersties!
While trying to break the ice with some smalltalk, soon the girls find out more about Canada-born Rex. When he is not working as a sculptor, he can be found doing stand-up comedy or delighting the crowd with a wacky karaoke performance. That's enough for the girls to open up about their sexual fantasies – and there is a lot of spanking and hair-pulling involved…
As soon as the girls start to make out, everybody knows that the first threesome for Laney, Blake and Rex is on its way. Rex is behaving like a true gentleman and tries to give equal attention to the two girls. They are getting wet and wild while undressing… and a sweet shower of kisses and moans of pleasure add to the atmosphere of sensual excitement. No desires have to hide in the shadows while the three are licking pussies, caressing nipples, enjoying doggy-style and devoting themselves to the sweet sensation of three heated bodies, craving to dive into one another.