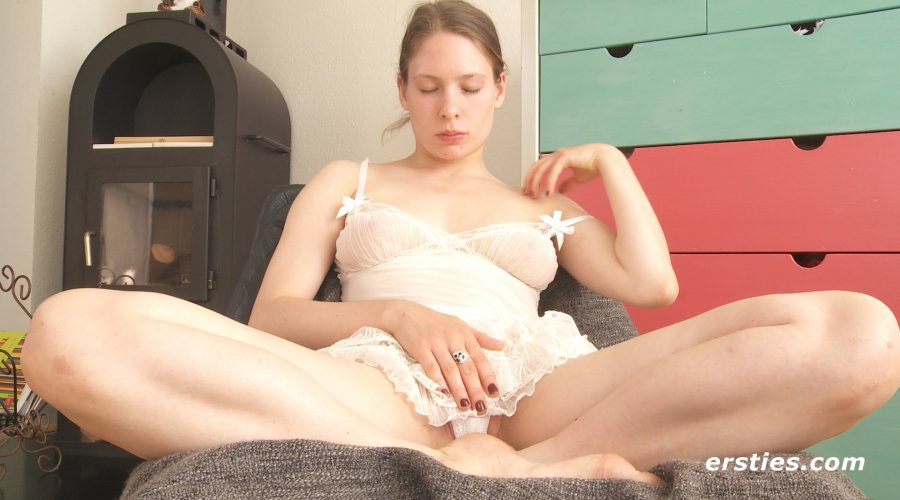 Ersties.com – Helena W.
8 February 2021
Helena is a dancer through and through. From her gaze to her movements to her sensuality, everything about her is nearly ethereal. Sex is like dancing, she says, and she enjoys both equally.
Pretty like Helena of Troy
Helena has been in Berlin for five years now and loves it for being so "crazy". Her favorite thing to do is dance – during the week as a ballerina, on the weekend in clubs. She even met her boyfriend that way! She loves sex just as much as she loves dancing – after all, both are a physical, almost transcendent pleasure.
She has piercing blue eyes and full cherry-red lips. Her lips, she says, are one of her favorite erogenous zones – she could spend ages stroking them, and we can spend ages watching her do it. It's nearly poetic, just like her attitude towards sex and masturbation. With a healthy appetite for both, we're glad she's come to share.
She enjoys slow, tender sex, and when making love to herself she is in no hurry either. Gently, she caresses and massages every inch of her body. Even stroking her own neck is sensual. As her hands move down, her legs begin glistening with wetness, and we become captivated by her graceful performance.
Interview with Helena
Helena in action part 1
Helena in action part 2