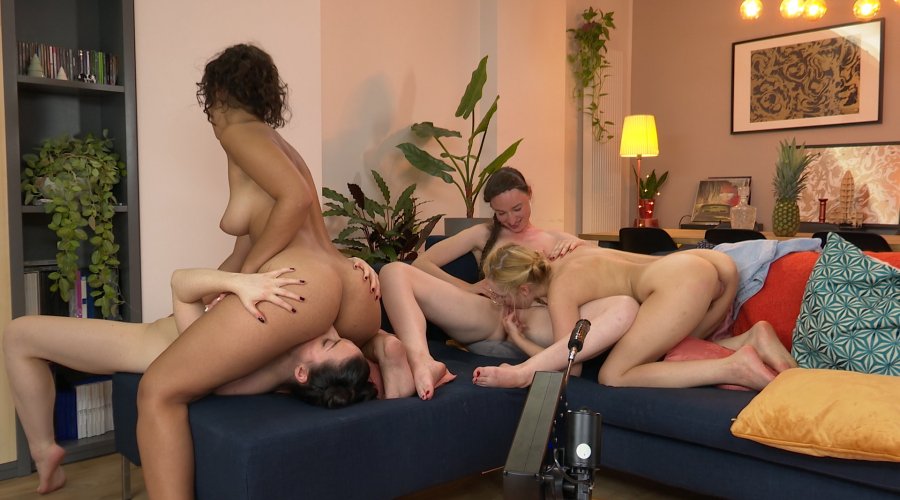 Ersties.com – Fucking Machine 2 – Group Sex With a Fucking Machine
26 March 2021
Before: Luna, Natalia, Zina and Domino are excited and nervous. After: they are happily relaxed – and not just from the fucking machine! The sexy girls also give each other a lot of exciting strokes, kisses and licks.
They've all seen this machine in porn but now seeing it in real life, it evokes a mixture of excitement, curiosity and cautious awe. It's time to approach this machine together, and let it slide inside… but before this happens, host Natalia introduces everyone and tries to find out which position is preferred by whom.
The fucking machine is enthroned in the middle of the curious and excited girls who surround the machine in a semicircle while it points its big black dildo at them. One after the other, Domino, Natalia, Luna and Zina are fucked by the machine. But the machine isn't the only star of the evening, because the four beauties kiss, lick, finger and caress each other extensively and let each other climax under their sensitive touches.
| | |
| --- | --- |
| Streaming Video Interview before with Luna X., Natalia, Domino and Zina | Interview before with Luna X., Natalia, Domino and Zina HD Video Download |
| Streaming Video Luna X., Natalia, Domino and Zina in Action 1 | Luna X., Natalia, Domino and Zina in Action 1 HD Video Download |
| Streaming Video Luna X., Natalia, Domino and Zina in Action 2 | Luna X., Natalia, Domino and Zina in Action 2 HD Video Download |
| Streaming Video Interview afterwards with Luna X., Natalia, Domino and Zina in Action | Interview afterwards with Luna X., Natalia, Domino and Zina in Action HD Video Download |