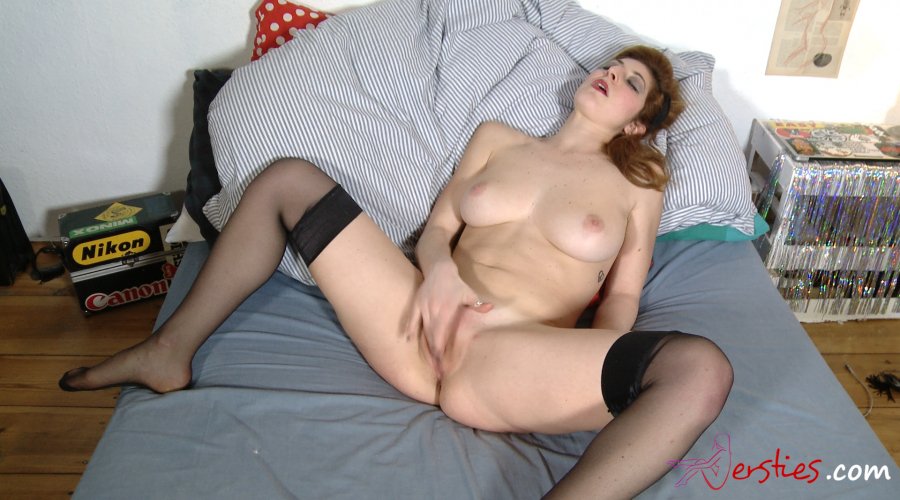 Ersties.com – Dorothea is dressing up for you
9 January 2021
This is not your typical interview. While Dorothea, a make-up artist, dolls herself up, she chats with us about everything under the sun. She confesses that she had always dreamed of being a pin-up girl, and that she's totally into burlesque. She loves the outfits that burlesque dancers wear – and she can't go without music and dancing. And by that, she means not only rocking out to cool tunes when she's out at parties, but also just shaking her stuff at home in front of the mirror. That's when she feels totally free.
Apropos freedom: that's exactly the reason why she moved from Rome to Berlin two years ago. Back in her homeland, she never fully felt like she could be her true self. Here and now, though, it's completely different. However confined she felt in Italy, it's the total opposite in Germany. Everyone in Berlin is free to do what they want. And that's certainly the case for Dorothea. Especially in terms of sex. She finds both men and women attractive, although she hasn't had sex with a woman before. But of course, that could easily change.
She's not in a relationship right now. She just doesn't feel the need to have a partner. She's enjoying her life the way it is now: fun-filled, action-packed, every day filled with new surprises.
Today is no exception. And we're here to catch it on camera. Yes, indeed, another special day for Dorothea. But take a look for yourself…
Interview with Dorothea
Dorothea in action part 1
Dorothea in action part 2