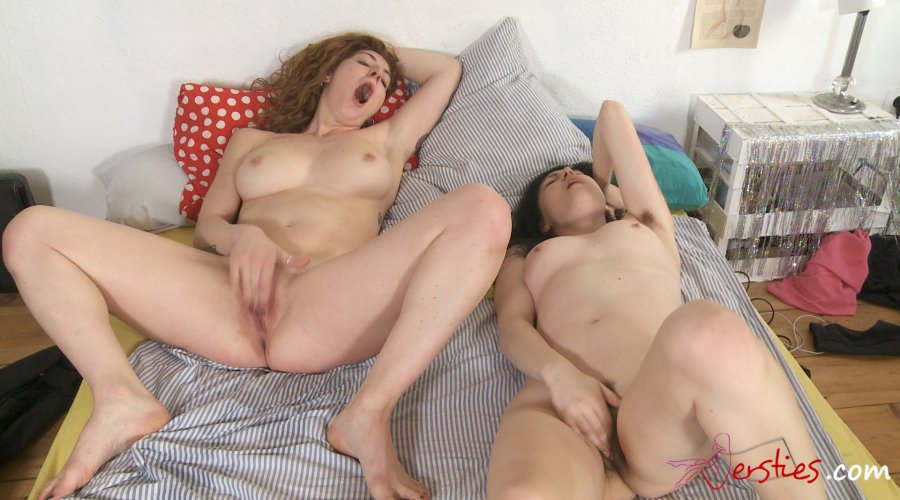 Ersties.com – Dorothea & Sonja tell you everything…
23 March 2021
Although Dorothea and Sonja first met here in Berlin, Dorothea would love it if Sonja would come back to Rome with her. But she has other plans, because someone is already waiting for her back in Vienna…
Dorothea doesn't have a steady partner. In August, though, a 35-year-old Canadian guy she knew came over to visit. She tried anal sex for the first time with him, and she thoroughly enjoyed it! It seems he did too, confessing that he would leave his girlfriend if Dorothea wanted him to. Ooh la la! Where might things go from here?
For both of these ladies, masturbation is a big deal. At age 16, Dorothea discovered the bidet in her then boyfriend's bathroom. She got very horny as the strong blast of water got her vagina wet – in a very literal sense. She bashfully admits to Sonja that she once spent 15 minutes sitting on the bidet, indulging herself with this method, enjoying the unbelievable bliss it brought her. She can even imagine starting a campaign to inform every woman of the world of the pleasurable benefits of a bidet.
Sonja's first experiences with masturbation were different. As a teen, she discovered a sex toy that belonged to her parents, and ever since then, she gets turned on by dildos. One of the first ones she acquired was a gift from her sister, as a matter of fact. She's got nothing against playing with a shower head, either. Sonja was already dating someone else when she first met her current lover: all it took was just one little greeting kiss, and they found themselves back at his apartment moments later. He is very dominant and a bit rough – exactly how Sonja likes it. She thinks every woman should know how great of a lover he is. Good thing, then, that jealousy isn't a factor in their relationship.
Why doesn't Dorothea like giving blowjobs? What else is on Sonja's list of sexual fantasies? They're here to tell you all of this, and much more!