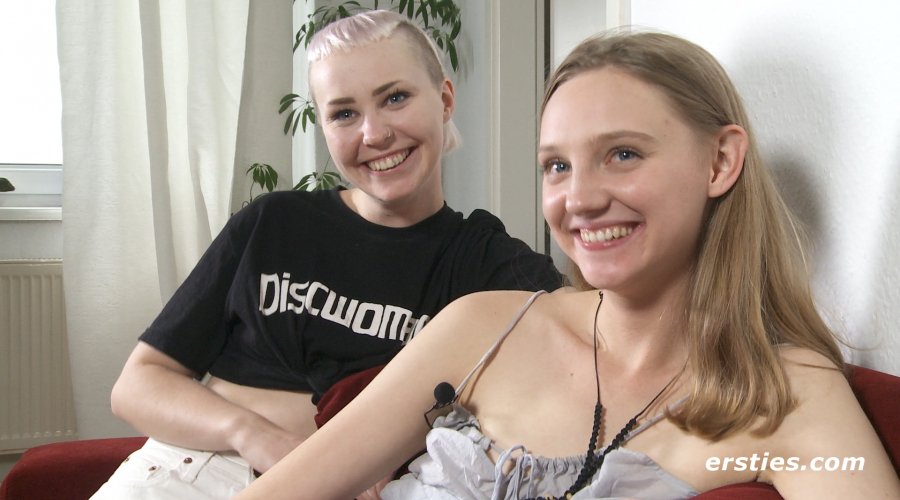 Ersties.com – Cassandra & Lucy P. – An erotic holiday
26 November 2020
Cassandra stopped by Berlin from Melbourne for some sightseeing and fun – and found both in lovely Lucy P. While Lucy P. cracks us up explaining what it's like for her being "super single", Cassandra can hardly keep her eyes off her. With her bright eyes and equally bright hair, Cass is obviously a softy for aesthetics. Which means in bed, her partner's gender is completely irrelevant, just as long as she has an attraction.
Cassandra says she is often the more dominant in bed. Lucy P. seems to be more of the submissive type. We can't wait to see what happens. But we're not the only ones in for a surprise! Today happens to be a special shoot, because we've come up with a little competition for them. Without them knowing it, we have arranged an identical shoot with two German girls in the exact same setting. Each couple gets vibrating eggs they can use on each other, and the partners with the most hilarious shoot wins!
When we hand Cass and Lucy P. their eggs, their eyes light up like kids on Christmas as they immediately start playing with their new toys… We can't wait to see where this takes them! As they keep testing the different settings on one another, they squeal with delight and start squirming more and more, trying to conceal their arousal from the public. Soon, it gets hard for them to even complete a full sentence, which is all the funnier since they are still trying to narrate for the selfie camera.
Interview with Cassandra & Lucy
Cassandra & Lucy action selfie
Cassandra & Lucy in action